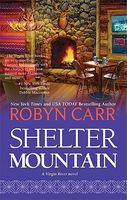 John "Preacher" Middleton is about to close the bar when a young woman and her three-year-old son come in out of the wet October night. A marine who has seen his share of pain, Preacher knows a crisis when he sees one--the woman is covered in bruises. He wants to protect them, and he wants to punish whoever did this to her, but he knows immediately that this inclination to protect is something much more. Paige Lassiter has stirred up emotions in this gentle giant of a man--emotions that he has never allowed himself to feel.
But when Paige's ex-husband turns up in Virgin River, Preacher knows his own future hangs in the balance. And if there's one thing the marines' motto of Semper Fidelis--always faithful--has taught him, it's that some things are worth fighting for.
Comment
: This is the second book in the Virgin River series by the author. It's small town contemporary and usually I love these stories because of all that feeling of friendship and help among the people living there...Obviously not everything works for everyone because Jill Shalvis and Sherryl Woods' books I've read so far in small town setting weren't that good for me, but this one still makes my day.
This is the story of John "Preacher" Middleton and Paige.
John is a quiet man, very calm and respectful and he cooks in the bar Jack owns. He's very happy with the way his life is going and even more so to see his best friend marries and almost a father.
Paige is running from something when she stumbles on Jack's bar. John is there and serves her and her small son food and gives her a safe place to rest.
While these two treated each other very correctly and respectfully at first, as times goes by their feelings get deeper although none take a first step to change such a perfect friendship, but in the end isn't it best to try to be even more happy?
I thought this book quite good. A great follow up to the first one. I especially liked how the author didn't forget the previous characters and how the community pretty much shows up all the time, making the book feel more alive, more complete and full. It's a nice feeling.
I think there are three main subjects in this book, the main couple's romance, the continuity of Jack and Mel's story and the setting up of the next story. All these three things have considerable air time, plus the sub plot of Rick and Lizzie, the town's main teenagers characters.
Concerning the main couple, it was so sweet to see them going small step at a time towards a stronger relationship. It was good to see Preacher falling not only for Paige but for her son as well, and all the help he gave her to solve the issues from her past. I thought is was quite balanced and they took their time and it felt right. What I'd change is how they finally got intimate. I thought it was too rehearsed. I mean, they both talked about how they didn't know how to change things and after some advice they went for it. It didn't have spontaneity which I think would have been good. The romance overall was tender but I wished we could've seen a bit more of strength in their wanting each other.
The parts about Mel and Jack were great, their relationship is strong and it's so good to see them happy and together. It brings a very nice feeling to the reading of a book when e know at least a couple is well and it shows. They're going to have a baby and I enjoyed all the scenes where they discussed their baby and I loved the scene where the baby is born, it's really my favorite part of the book.
We also have the setting of the next book and although it didn't seem that interesting this time for me, I know the 3rd story is one people love the best so I'll keep my faith until next month when I'll get to it.
Several more characters make an appearance which is great for the unity idea I have of good small town books and I'm sure all of them will have a special role in th future.
So far, this world is working for me and it's such a good story to relax and spend some good time...Very good.