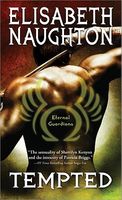 Demetrius -- He's the hulking, brooding warrior his fellow Guardians avoid. Too dark. Too damaged. And given his heritage, he knows it's best to keep everyone at arm's length.
Isadora is missing. The words pounded through his head like a frantic drumbeat. For her own protection, Demetrius had done all he could to avoid the fragile princess, his soul mate. And now she was gone -- kidnapped. To get her back, he'll have to go to the black place in his soul he's always shunned. As daemons ravage the human realm and his loyalty to the Guardians is put to the ultimate test, Demetrius realizes that Isadora is stronger than anyone thought. And finally letting her into his heart may be the only way to save them both.
Comment:
This is the third book in the Eternal Guardians series and the main couple has appeared before, actually they couldn't stand each other, something that made me quite eager to try it because I usually love these type of stories and can't wait to see how they stop hating each other and start on the love.
This is the story of Isadora and Demetrius. Isadora is the heir to the Argolean throne but rules say she's got to be married and her father has pressured her before to bind herself to one of the Argonauts but it never worked out for a reason or another. Now she's changed, she stopped being the weak and shy girl and tries to be fierce and strong to be worthy of the throne. After some doubtful decisions in the past she is ready to be queen but right at that point she gets kidnapped.
Demetrius is a good warrior but he has tried his best to stay away from Isadora and says it's because he can't stand her. The real reason, obviously, it's much more meaningful and predictable but he does try to stay away until secrets from his past come to light. Now he is the only person around to help her but it means to be closer and everyone says there's nothing better to communication than complete loneliness in a desert island.
I liked this book best of the three I've read. I think the author has done well this idea of couple hating each other. Of course they really don't, but their reasons, behavior and fears were well played into it. I really enjoyed their path to happiness.
Isadora has always been considered weak by her father and many others but since she found out about her sister, she decided to step up and become a stronger person to be considered worthy of ruling. I thought her personality was very interesting because she had a strong mind and will, just because she was shy she wasn't considered good enough. In this book we get to see many of reasons behind her actions lately - some we've seen in the previous books - and I ended up liking her more. She has a good heart and she isn't stupid although sometimes she can do some less advised things. But I don't think she does that out of intelligence, it's really her heart leading and to be honest it's not that bad, she just could a little bit more cautious. She is attracted to Demetrius but thinks he hates her so when they get alone on the island she finally starts understanding him, something she claims was the hardest thing. And I liked that, once she made her mind about him, she took a very strong step to get after him.
Demetrius has secrets and by the end of the book we see them and wow, how plot interesting they are. I can see how that would play a part in future books too, especially one of those secrets.
Demetrius also feels attracted to Isadora but despite not considering himself good for her, that wasn't the main reason to stay away and he seemed rude all the time, but throughout the book we get to know him better and his characterization was quite well done by the author.
The romance between them was good, I liked how they took their time and how in the end Isadora proved she's regal and saved Demetrius from a cruel fate and pursued her HEA. Go, girl.
I thought this was a strong book, good characters and good plot, which made me very curious. Some secondary characters also played an important role in all that and I feel eager to know more about them and about what will happen next. Hopefully I'll be able to get the other books soon. But what a great solid story this one was for me.