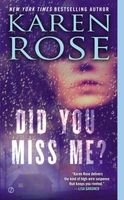 Baltimore prosecutor Daphne Montgomery pulled herself out of a damaged past to build a solid life for herself and her son. But after she helps to convict a killer, her confidence is shattered once again by the news that her son has been kidnapped.
Daphne believes it's connected to the recent high-profile trial, and at first FBI special agent Joseph Carter agrees. But together they find the reality to be even more troubling, and it runs deeper than Daphne fears. With her son's life in jeopardy, she must unlock a dreadful secret about her past -- and confront a truth that will change everything for those closest to her. And, if she survives, threaten the lives of everyone she loves.
Comment:
This book is out for a long time but I've decided to wait for the paperback edition because when I started reading the series I was getting them in the paperback edition and I rather like them similar in size in my shelf. So, I've waited but I knew it would be a good story based on what people who have read it, said. The moment the book arrived I knew I couldn't wait that long to get my hands on it, so it was my second read of the month.
This book is Daphne and Joseph's story. The met in the previous book and now nine months have passed. Each thinks the other has moved on to someone else but the feelings are still there.
In the meantime, Daphne's son was kidnapped. While everyone and everything is centered in finding him, secrets start to pop up and Daphne's life is suddenly in the open.
For me, this book had three main plots: the suspense part, the developing relationship between Daphne and Joseph and the new details about things are between Stevie and Clay. Of these three subjects, one of them was quite lacking, which was the romance between the two main characters. I don't think they were that in love with each other and I sure don't consider their romance as romantic. I think it was too practical, too easy and too tasteless to feel good. I also don't think their growing attraction was described in the best way and I was left feeling there wasn't enough sexual chemistry between them, so in that part, very lacking.
The suspense, on the other hand, once again, kept me going. I couldn't put down the book and really wanted to know what was going to happen and how the villain was connected to Daphne. I imagine the author drawing diagrams and charts with lots of colored arrows linking this and that in her desk, lol It sure shows a lot of work because everything looks easy to follow but I'm sure it took her a lot of time to make things fill each space in the plot line.Of course, there's always a thing or two that seems having been placed too easily there, too convenient, but still, nothing enough to ruin it for me.
The relationship between Clay and Stevie moved along some interesting steps. I guess people would say not, considering their last encounter, but I'm actually as eager as ever and dear God, if their book isn't next....because things are in such a point it just has to be solved, I bet their romance will be great! Lots of chemistry there, in fact!
Many elements made this book good. There's also a quote there I loved, it felt quit real and suited for our take on real life things:
"Sometimes the most worthwhile things are right in front of our eyes. We just make them hard because we think that gives them more value". pg 272
All in all, a good book. It could be better, in terms of romance, but hey, nothing is always perfect. I also loves seeing so many references to previous characters from other books and to know how they're doing, it was both fun and nostalgic to remember some characters and to think about their own stories...it's always so good to know about beloved characters after so long, it's almost like knowing good things about family, silly but loving books is a very particular experience, right?
Solid, strong book, could be better, but overall, still one of the best by the author.