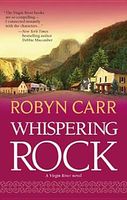 A decorated U.S. Marine reservist, LAPD officer Mike Valenzuela was badly wounded in the line of duty, but has found hope and healing in Virgin River. When he agrees to become the town's first cop, he does so knowing it's time he settled down. Twice divorced and the lover of too many women, he secretly longs for the kind of commitment and happiness his marine buddies have found--a woman who can tie up his heart forever. He finds that woman in Brie Sheridan, a Sacramento prosecutor who understands his drive to protect and serve. Virgin River becomes a safe haven for Brie after nearly losing her life at the hands of a crazed criminal. Though tough and courageous, she's got some fears she can't escape--but now she has someone who will show her just what it means to trust again.
Mike will do anything to help Brie free herself from painful memories. Passionate, strong and gentle, he vows to give back to her what she's so selflessly given him--her heart, and with it, a new beginning .
Comment
:
Whispering Rock
is the third book in the Virgin River series by Robyn Carr. The action takes place in a small, united community and the stories usually follows more than one plot line at the time.
This is the story of Mike and Brie.
Mike has been shot on duty and after his recovery he couldn't go back to his work as a police officer. He visited his friends in Virgin River and decided it was a good place to recover and to start his life again.
Brie is a prosecutor in Sacramento, but her marriage ended and she couldn't convict a rapist who later on rapes her. Mike helped her before and now she's back to Virgin River to heal and her friendship with Mike blossoms to something more.
This was another of those books where more than one plot line is developing and the main story isn't the most fascinating one. Mike and Brie recently have had awful experiences in their lives and they look for Virgin River to get better. They were friends before and even spent some time together in the previous book. However, not even then I felt like they had much chemistry..their friendship had lovely moments but it never strike me they had such a strong base to a romance. But they did and it seemed they were together because it suited and because it fit instead of because they desperately loved each other. It's a bit strange because I know many people love them as a couple, but for me it lacked feeling. Besides I wasn't that eager to read their parts...I was always more interested in the sub plots.
We see a lot of characters interacting in this book. Usually I love that but in this case, as the main romance was a bit without flavor for me, it was almost like the rest was too good, so the whole thing left me a bit confused and it wasn't as good to read it as it was with the previous two books.
Still, I was happy to see developments with the other couples we know, it's really great to see how everyone is going, what they're doing, where they're at in their lives, it gives a little extra to that whole concept of close knit community. I think it's really the best part of the books because the romance tends to be very sweet instead of hot. Not that is should be erotically hot, this series doesn't try for that target but, for instance, it would be nice to see the main couple or even the others at that stage once in a while, just to make things more alive.
In the end a good read, I did enjoy reading it but it wasn't that amazing as I imagined. Still, I'll keep going because I really want to see what happens next in the series.