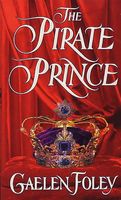 On a calm moonlit night, as the scent of jasmine and pine embraces the island of Ascension, the pirate prince Lazar di Fiore returns with lethal grace to avenge what was stolen from him: his kingdom, his birthright, his soul...
When Allegra Monteverdi, the daughter of Lazar's sworn enemy, throws herself on his mercy, Lazar agrees to spare the lives of her family--but only if Allegra sails away with him as his captive.
Alone at sea with this dark, intriguing man, moving between seduction and fear, Allegra realizes it will take more than her growing love for this pirate prince to bring peace to her beloved home. For Lazar must face the demons of his shattered past--if he is to forge the destiny that is theirs to claim...
Comment: I've decided to read this book this month because this trilogy, The Ascension, it the last books by the author I have to read. In my attempt to go through several books in my pile and get them "done", this trilogy is one of the next to follow.
This book is the story of a fictional small kingdom near Italy called Ascension. The royal family has been murdered and people say only one member survived, the royal prince. However, no one has seen him and now another lord rules but not fairly.
Lazar di Fiore is the heir to the throne but he only wants revenge. After year at sea being a pirate, he is now ready to start his revenge but things don't go as he planned, for the young girl he wants to kill so her father can see how it hurt to see his beloved family die, he feels attracted to her and decides to change tactics.
Allegra is a vivacious young woman and she mourns the royal family death still despite being too young when it happened. She tries to help the people the best she can and is willing to marry someone she doesn't love because she thinks this way she will have the means to do more. But ghost are returning…
Having previously read the author's Knight Miscellany series and being quite divided about how to like it – I liked the first four books a lot and the last three were merely ok – and also the Spice trilogy and finding it overall just good enough to entertain, I was actually eager to see if the first book in the first series the author has written was good or bad.
I have to say it was a bit different from her later works. In a way I feel she was still trying to create the perfect environment to set up her story but she dedicated quite a long time to the characters' moods and thoughts and in her later works these things didn't seem as important to the story as they were in this book. In fact, I have to say I've read the other books a long time ago, 4 or 5 years or something so many details are already forgotten. But maybe her style evolved into something else the more she wrote…I don't know, but this Pirate Prince felt more completed, like she didn't filter what wasn't important there...I don't know, maybe it's just my impression.
Anyway, the romance was good. The two main characters had some things in common and their love was gradual, interesting, and sometimes sweet to watch. I don't think it was the most romantic thing ever, but I was gad by the way things were done between them, even the clichés along the way weren't that bad because they didn't feel rushed or inserted just to fill space. I liked how Lazar had a lot of issues from his past to solve and how the stopped being selfish and took things head on to become someone better. Who doesn't like a hero who changes for better?
The plot took on a path I wasn't expecting, but it wasn't that unusual. I just thought that, being a trilogy and Lazar having a brother and a sister the stories would be about them..I was wrong and I can't say I'm that excited with the next story but I also want to know what happens, so…but overall, the story was good and there were times I was quite eager to see what would happen, so although I've read better, it wasn't a lost effort.
I'm reading the second book in the trilogy next month; let's hope it's better than what I expect.