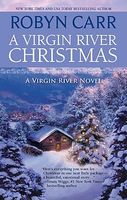 Last Christmas Marcie Sullivan said a final goodbye to her husband, Bobby. This Christmas she's come to Virgin River to find the man who saved his life and gave her three more years to love him.
Fellow marine Ian Buchanan dragged Bobby's shattered body onto a medical transport in Fallujah four years ago, then disappeared as soon as their unit arrived stateside. Since then, Marcie's letters to Ian have gone unanswered.
Marcie tracks Ian to the tiny mountain town of Virgin River and finds a man as wounded emotionally as Bobby was physically. But she is not easily scared off. As Marcie pushes her way into his rugged and reclusive life, she discovers a sweet but damaged soul beneath a rough exterior.
Ian doesn't know what to make of the determined young widow who forces him to look into the painful past and, what's worse, the uncertain future. But it is, after all, a season of miracles and maybe, just maybe, it's time to banish the ghosts and open his heart.
Comment:
In the sequence of my decision to read this series this year, here it is another installment of the Virgin River huge series, which I know I won't be able to finish until December, having to read more into 2014 too.
This is the 4th book, and it's a little bit smaller than the other three I've read, my guess it's because it was meant as a holidays special more than exactly a full story; actually the author's note in the beginning of the book said so.
This story introduces two new characters, Marcie and Ian.
Marcie has been looking for Ian, her late husband's best friend in the army. After her husband's death she wanted to talk to Ian, to know what happened since he stopped talking to her, so she can have some closure and move on.
Ian wants to be left alone and is content to just make ends meet in his cabin in the woods. But when Marcie finally finds him and almost gets hypothermia he rescues her and helps her into health after she gets the flu.
This story was very emotional. It was more about things to say than any real action. I found myself crying too at times, specially when Marcie would remember her husband and how hard ot was for her to say goodbye after a long time taking care of his body, as his mind was lost way before his physical death. I couldn't help wonder how such a trial can be taken in real life because just reading about it made me so sad… the author really took a chance on telling this hard reality, because I can't imagine things would be so simple…besides, mrs Carr was clever too, and she balanced that with a caring and patient family who supported Marcie through her ordeal and she also had a sunny disposition despite everything that happened. This story was quite the emotional lesson.
Of course, a HEA was needed and so Marcie and Ian started talking, started to move along through their issues together and the fell in love and I liked how their romance happened, it was slow paced and sweet and it originated some great scenes.
We also had almost all the known characters from the other books showing up and we got to see what was happening to them and how the community is united and willing to help. The books would be worth it for the overall feel of union alone, if not for the love parts as well. I liked this one much more than the previous one, at least the romance was more intense and well done in my opinion.
Next month, there's more and I hope it's as good as this one. This was really intense for a smaller installment.