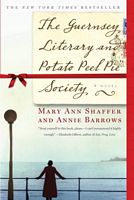 " I wonder how the book got to Guernsey? Perhaps there is some sort of secret homing instinct in books that brings them to their perfect readers." January 1946: London is emerging from the shadow of the Second World War, and writer Juliet Ashton is looking for her next book subject. Who could imagine that she would find it in a letter from a man she's never met, a native of the island of Guernsey, who has come across her name written inside a book by Charles Lamb....

As Juliet and her new correspondent exchange letters, Juliet is drawn into the world of this man and his friends--and what a wonderfully eccentric world it is. The Guernsey Literary and Potato Peel Pie Society--born as a spur-of-the-moment alibi when its members were discovered breaking curfew by the Germans occupying their island--boasts a charming, funny, deeply human cast of characters, from pig farmers to phrenologists, literature lovers all.
Juliet begins a remarkable correspondence with the society's members, learning about their island, their taste in books, and the impact the recent German occupation has had on their lives. Captivated by their stories, she sets sail for Guernsey, and what she finds will change her forever.
Comment
: Some time ago, a group of people in one of the message boards I go to decided to do a joined read of this book because it had such great reviews. I decided to join in because I was very curious and a friend who shares some of my reading preferences also loved it. Based mostly on that recommendation I went for it.
This is a story told through letters the characters send each other. Juliet is an author who has had great success and recognition with a book about the war. Now she is concerned about what her next book should e about, after all the war is over, so while she informs her publisher about this she starts to receive letters from strangers in the island of Guernsey and as time ans letters go by, she makes friends and starts a story that is both simple and powerful.
This wasn't the first book I've read where the action is told by letters. I actually like this type of stories because they're different and allow a different way to see what is happening. Sometimes it is easier to read between the lines this way too.
Juliet is a successful author because of her humorous stories about the war. Now the war is over and she doesn't know what to do and fears her next book might not be so good. One day, by chance she gets a letter from a man in Guernsey because he found out her address and is interested in knowing more about a certain poet. From this moment on, we get ourselves immersed in the life in Guernsey and their experience with the Nazi occupation.
I found this book amazing. One if the best I've read this year. The pace is very slow as everything happens described in letters but what they contain...this is a heartfelt story about what the war was to those people, their fears and experiences and even the good laughs they got. Some parts were so sad. Even more so because I am positive they must have been the exact real experience of so many of those people. It makes me want to cry to think how so many people were humiliated and made ridiculous and hurt and killed because of such petty reasons. Stories about the Second Wold war always get to me, but most times in a good way, because the worst we could is to pretend it didn't happen. The authors have managed, though, to insert enough amounts of funny scenes and replies so the book isn't heavy. I'm not overreacting, the story is very balanced. The end is so beautiful too, I'm sure everyone who hasn't read it yet would love it! I can't explain how wonderful the book truly is.
The characters that write to Juliet are members of a literary society so part of the conversations are about books and what they like to read. I loved this part, it reminded me why there are so many different ways to look at a book and how special it can be for that person to read that book. It has amazingly beautiful sentences about the love for books and what it means. So many great scenes and passages to book lovers to look for... I especially liked two. One member once says his best friend mocked him for not reading the best books and how it was best to read than to play games and how sad and small that made him feel, that the friendship moments they shared were less than a book. Then the friend felt ashamed, he apologized and they went to play together a game. I thought t was such a good scene, how friendship matters and the best thing is to share your love about things with others not pushing them to enjoy what you like.
Another wonderful part was how a member described seeing the ocean with the love of his life with a Wordsworth's quote. For me, one of the most beautiful quotes in the whole book:
"The Gentleness of Heaven broods o'er the sea - Listen, the Mighty Being is awake."
The book is small but is full of poignant quotes and literary wonders. I really think any book lover would love to read this book. I still think of it and can't help myself but to read my favorite parts. It's a book written in a simple way, no flourishes or shiny words, just the simplicity of good characters and their passion.
I can't recommend it enough, please, please, go read it.