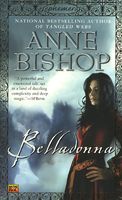 The Eater of the World is casting its shadow over the landscapes of Ephemera, tainting people's souls with doubts and fears. Glorianna Belladonna possesses the ability to thwart the Eater, but she is not alone. In dreams, a call -- "Heart's hope lies within Belladonna"-- has traveled beyond the Landscapes, and reached Michael, a man with mysterious powers of his own. Together Glorianna and Michael may offer Ephemera the very hope it needs...
Comment
: This is the second book in the Ephemera series by Anne Bishop. Although I wasn't much impressed with the first story, I decided to keep reading because I already had the book, and this way I could tell myself the job would be done.
In this book we follow Belladonna more closely, as she is the one that could save Ephemera from the evil that flows through the world. She is very powerful and people fear her, so it's obvious why she prefers the company of her family.
Michael is like her, not as powerful, very much untrained, but in a smaller scale he can influence the earth, especially with his music. Trying to help his younger sister, he feels the call from Belladonna and eventually they get together and he is the one who teaches her how to defeat the villain.
I have to say I was expecting this book to be better. At least I was hoping to feel more comfortable reading it because I am used to the plot and the "feel" of the story. In a way I was, because I could follow the plot and many things weren't weird at this point, something a new reader would certainly feel.
However, this story, which promised so much, considering the personality and characterization of Belladonna, was a bit meh. Not boring, as I read it relatively fast and wanted to know what was happening next. But it wasn't amazing and although some of the scenes were meant to be understood as confirmation of certain facts, the way I saw it, it seemed more like a delay of actions. I mean, things took their while. It was interesting to see the tidying of things - I suppose this was meant to be just two books at first - but the real action only took place in the last pages and honestly it felt flat. The villain was so bad and so powerful, I was hoping for a bigger end for him, for something more spectacular.
As it wasn't as brilliant as I expected, I couldn't help but feel a bit let down. Plus I really wanted this book to be great because I like the author's other works and she writes inspiring things in her fantasies..apparently this series is not the case for me.
The romance, which I also hoped would be amazing because Belladonna was this figure of someone unapproachable by anyone, except those she cares about, I thought her love story with Michael would be sizzling but despite some sweet moments, it was rather plain and I think she deserved more flair.
In the end, I don't know what else to say...I really wished for more with this one. The fantasy elements are strong as ever, but the story itself felt lacking for me.