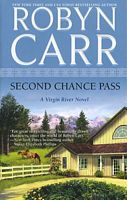 In the space of a few months Vanessa buried her husband, Matt, and gave birth to their son--breaking her heart while filling it with a whole new kind of love. But the one man she longs to share this love with now acts as if she doesn't exist.
Paul Haggerty lives by the marine motto: Semper Fi. Ever faithful to his best friend, he's done right by Matt's widow as best he can...considering he's been secretly in love with her for years. Now, just as he's about to make his move, another woman has staked her claim on him--a claim that will be tough to escape.
With courage, humility and not a little meddling from the good folks of Virgin River, Vanni and Paul might just get a second chance to have the love they both desire and deserve.
Comment: Following my strategy to continue Reading this series once a month, this was Second Chance Pass's time. The books have a certain sequential time line, so we get to see a bit of what has happened in every new book as well.
This is Paul and Vanessa's story. The have been friends since they met but Paul wasn't fast enough and she ended up marrying his best friend. He never interfered but he has been in love with her since then. Now that Matt's gone, they're ready to have a new chance at love and to finally admit their feelings.
I liked this book, but mostly for the secondary characters. I do think the strength in these books is how good the secondary sub lots are dealt with. I confess this time I was more intrigued over what was happening to Walt, Joe, even Jack and Mel than the main couple. Secondary characters aren't there just to fill space or to present a more global idea of how a community works and that it's there...it's also to show continuity, to make the reader feel it's real, because often the secondary characters are there just because but in this case it allows the reader to feel everyone is actually part of that town and is interested in what happens and, more important, plays a part even after their story. They don't just conveniently disappear because their story has been told. I love this aspect of small town stories.
The main couple, however, wasn't my favorite. Individually they had many things to wonder and to like, but I don't think they're such a good couple. I just don't think their chemistry was well explored by the author and I get it, I mean, she is a recent widow, he was the man's best friend and had another woman claiming things he's doubting are true…a lot of mess to sort out before any romance could happen, and among the several issues between them, I just didn't feel real love vibes with them.
Paul has been described as shy but he also didn't act like it that long, it was only concerning Vanessa. I guess he's too alpha model to be really shy. I know one doesn't mean the other can't happen but the way the author has portrayed him here, I didn't think was a good balance.
Vanessa is a widow but she's ready to love again and she has her eye on Paul. That her feelings changed, are stronger I don't doubt, but the timing…we are told not that long has passed since Matt's death and this new need to love Paul. I find this a bit unbelievable, even when we know Vanessa isn't a martyr or does things to follow conventions. We know she is determined an confidant but I guess I'm a bit more conventional in this and would have preferred to see some more time passing before they got together. Although I admit they deserved it.
As I can't just change the way I think, in this case, I stick to my ideas.
In The end, a positive book, the usual interesting plots and situations, but the main romance, which should be the most important thing, felt a bit of a let down.