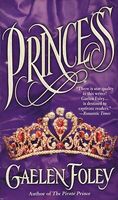 Darius Santiago is the King's most trusted spy. He is charming, ruthless, and he has one weakness--the stunning Princess Serafina. She is all he has ever wanted and everything he cannot have. Serafina has always worshiped Darius, knowing that deep in the reaches of her soul, where she is not royalty but a flesh-and-blood woman, she belongs to this dangerous man. Unable to suppress their desire, they are swept into a daring dance of passion until a deadly enemy threatens to destroy their new love.
Comment: This is the second book in the Ascension trilogy by the author. This new book is a continuation of the first and the main female character is the daughter of the couple from the first book.
This is the story of princess Serafina and Darius, the spy that has loved her for a long time. In fact, their love is mutual, but Darius doesn't act on it because he doesn't think he might be worthy of her and tries to keep her away. Or three years since she confessed her feelings for him, he has successes but now she is to marry a Russian to help her country in the war against Napoleon and things just start to change.
I liked the other book best. I admit I didn't feel much empathy towards Serafina although she has likable traits. I don't have anything against her, she just wasn't a favorite heroine. So, they like each other and the book starts with some spies trying to kidnap her or kill or something and Darius saves her of course. Because of the possible new attacks she might suffer – she would be a pawn in the incoming war – Darius has the mission to keep her save in another smaller castle where they finally get to be together. Of course things aren't this simple, but I kind of enjoyed their time together, it was all very romantic.
Darius is a known character, he was rescued at 16 by Serafina's father and gave him his loyalty so we understand why he would be reluctant to be with his savior's daughter and because of the work he does he doesn't think he might be a good suitor for her. His character had many heroic attitudes. Serafina wasn't as spoiled as that and in a way she trying to come after Darius proves she knows what she wants and that is happiness but I didn't like her as much. Together they were ok, but apart, there were times I confess, I'd like to see Darius with someone else.
The overall book was Ok; It had many good moments and historical contexts that were interesting to place. I just didn't like one thing. Serafina's father is the hero of book #1 and in that he was portrayed in a certain way, his character was fun and enjoyable to meet. In this book it's almost like he's a different person, I wondered how someone to dashing and somewhat reckless in the first book could appear too subdued and even a little bit uptight in this one and it annoyed, I think there was no need. Fine it was his daughter and he had a lot to deal with, his kingdom being in the imminence of attack, but still…
Comparing it with the first one, it lacked some punch and likability but it was a good enough effort.
So many people say the third is great, so I can't wait to read it and see for myself.