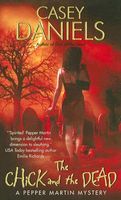 Ever since the former rich girl-turned-Cleveland cemetery tour guide banged her head on a headstone, she sees dead people. Worse still, she hears them--and they won't shut up! Now it's Didi Bowman, a poodle-skirted relic from the Great Beyond, who's bending Pepper's ear, complaining that her famous author sister, Merilee, has done her wrong. Trouble is, if Pepper proves it, she'll break the hearts of millions of Merilee's fans. And if she doesn't, Didi's ghost may never go away.
Pepper needs peace and quiet (and rent money), so the cash-strapped ex-heiress agrees to take a job as Merilee's secretary and dig around the family tree. But when she unearths more than she bargained for--like an illegitimate daughter, a bunch of illicit love affairs, and a possible murder--suddenly a very poisoned pen is all set to write Pepper out of the story permanently.
Comment:
I've picked this book because since I've read the first one, back in february of last year I knew I should get to it, but time went on and to be honest, despite the good story, I wasn't very fond of the main character so I could wait for the next one. But it was still there, reminding me I should get to it... I finally gave in.
This second novel in the adventures of Pepper Martin, features a ghost that wants recognition for a very successful book she claimed was written by her and not by her sister. She knew Pepper helped Gus - the ghost from the other book - and now tries to convince Pepper to help her as well.
At the same time, the ghost's sister is coming back to town for a kind of book tour and it's Pepper's opportunity to figure out who's saying the truth here and to unveil some secrets from her ghost's past...
I liked the plot of this story. It was about a dead woman who claimed to have written a book but her sister is the known author of it. Pepper goes on her investigations to find out who's telling the truth and like it happened with the previous book, the more she researches, the more secrets she comes up with. I like her style because she has to do things a bit undercover as no one knows she can see the dead now. Her methods are very amateurish but she is a bit funny and although saying all the time she doesn't want to get in other people's business, she still helps the ghosts because she isn't a bad person.
The mystery in this story was fascinating, many things I wasn't waiting for and I think the author has done a good job creating the little details and putting them in line so by the end of the book it all made sense.
Pepper, however, isn't my favorite protagonist. She has many qualities but she's also...I mean, she looks too superficial at times. I get it's part of her make up and I think the author intended her to be that way on purpose but despite sometimes I enjoy her personality, there are also scenes where I think she's being too harsh and don't always feel empathy towards her. This sort of dichotomy ruins her character for me a bit, because I can't help dread the moments where she'll act superficial, not very concerned or where her personality isn't deep enough to make me connect with her.
There's not much romance in the book. We still see the two guys Pepper met in the first book and things seem pretty murky in this field. I'm not sure where the author is going with thus but in my opinion she should make Pepper a more mature person before any relationship so, in a way, I can't say I miss the romance exactly, we do have some scenes with Pepper and one of the guys and it seems they have the sexual attraction going on, so, perhaps in future books something might develop some more.
In the end, a good read, much better than I thought, I'll probably read the following books at some point, but Pepper definitely needs some personality improvement.