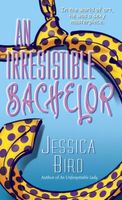 He was a confirmed bachelor--and a gorgeous work of art.
For struggling art conservationist Callie Burke, the chance to restore a world-famous painting is the opportunity of a lifetime--one that no one in her right mind would turn down. Call her crazy, but Callie has serious reservations about working with the painting's owner. Warm and sexy, Jack Walker makes no attempt to hide the strong attraction he feels for Callie--even as she tries to keep their relationship professional. Now, cocooned in his studio in Boston, she will either have to learn to ignore the man and concentrate on the masterpiece, or give in to the kind of passion that can never be captured on canvas.
Jack Walker is a practical man who runs his life, his empire, and his fortune effortlessly. Yet from the moment he met Callie Burke, he wanted her with all the intensity of a first crush. As he gets to know her, the desire blossoms into something more--and Jack finds that for the first time in his life he is leading with his heart instead of his head. . . .
Comment:
This is another book with connected characters, the third in a contemporary series by the author. This 3rd book features a couple of protagonists we've met in the previous books and how their romance happened.
Callie Burke is the poor half sister of the rich Grace Hall. She wants to live her life alone but she couldn't stand her loneliness anymore and contacted Grace. The two are forging a bond but Callie doesn't want any favors just because of their family connection.
Jack is one of Grace's best friends and he's built up his father's reputation from scratch since he went into debt. He now wants to restore a painting sold to pay off debts and asks Callie to do it, as she works in art conservation. He wasn't counting on the attraction between them and even less in the challenge it would be to be with her.
I loved this book. So far, my favorite of the three. The main and more obvious reason is the female protagonist, she is close to the perfect heroine for me. Callie has never been rich and despite the fact she has now a very rich sister, she isn't using her to be better of. She's still poor and doesn't want others to know that or to have pity on her. She is a warm person, a hard working one and she just wants to have a decent living. However, she is out of work now but won't ask for help. In a way I get her, she wants to try on her own, she wants to have her independence. Grace helped before, not with money, but help nonetheless and she accepted so she isn't stupid either, she recognizes when is a good time to accept help. She also tries to protect her heart and with her mother's illness she devoted her time to work and her mother and never had a intimate relationship which means she's cautious and serious when needed. I really liked her personality and how the author portrayed her inner strength.
Jack is another rich guy but things weren't always easy for him so he's not perfect, which only adds up to his charms. I liked how at first he pictured a different Callie but when he found out about her, he didn't try to humiliate her or anything, he seemed supportive. Plus their relationship was slow paced and it seemed more real because of that.
The romance had many sweet moments and the chemistry between them looked real and I really enjoyed seeing them fall in love and how certain things were made so special for them. I liked how they started to trust the other so well even when some issues showed up and some caution happened, and how they talked about it and worked things out.
The story felt well written to me. The plot advanced at the rhythm of the couple's developing relationship but there are many secondary scenes where we can see them interact with other characters ans see some more glimpses of their behavior. I really liked knowing them.
I've said before sometimes the author focused too much on the money issues in these books, but in this case I liked the contrast a lot because it wasn't as obvious or as mentioned. Callie was poor but she wasn't after money or too rigid not to stay away from jack because of that, their relationship seemed quite balanced and I loved reading their story, it took me only one day actually.
I wish I could read more books with heroines just like Callie, poor but hardworking, innocent but cautious and not in a despairing state to not be a virgin and still be a funny and warm person. I recommend this book for any contemporaries' fan.