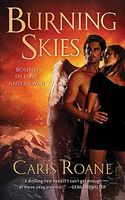 Enter a hidden world of winged vampire warriors -- bound by duty to protect humankind, and sworn to fight for the women they love....
A vampire warrior in exile, Marcus Amargi resists the call to return to the ranks of the Guardians who fight the death vamp armies. Here on Mortal Earth, Marcus has another battle on his hands -- the seductive lure of Havily Morgan. The woman meant for him. Whose blood he craves. The one who comes to him in dreams -- and demands his surrender...
A beautiful immortal with extraordinary powers, Havily lives in the realm of Second Earth but, in her fantasies, yearns for her winged lover Marcus. Soon, their bond will be put to the ultimate test. When their bloodthirsty enemies set the night on fire with sky-blazing weapons, Marcus and Havily must unite body and soul, to unleash the full power of their passion -- and fight fire with fire...
Comment:

It's been five months since I've read the first book in this Guardians of Ascension series. I really meant to read this second one closer to the other one, but as you know trying to follow any reading list isn't as easy to accomplish as that. Still, as I enjoyed the first book, I was determined to read this one as soon as I could, but it kept being pushed further on until this month I decided I'd get it and that was it.
Burning Skies
is the story of Marcus and Havily. As we know from the first book, mates in the Second Earth dimension recognize each other by scent and in the first book, Marcus and Havily met and realized who the other meant for them. Still, Marcus' business in Mortal Earth (our world, let's say so) and his desire to be away from the fighting that stole him his family didn't allow him to pursue Havily or to consider anything serious with her. Havily, on the other hand, also didn't look for Marcus because she thinks he's a deserter, leaving his warrior friends without his help for so long. But when Havily is attacked at home and Marcus knows about this, all the instincts that he fought came to the surface and he went after Havily for good.
This series has a lot of interesting elements, like how each world is shaped the same way as the original, the Earth, but it's like a different dimension where rules are different. I picture them one layer on top of the other and so on. Then there's the mate scenting, which I find amusing as each couple has a different smell, in Marcus and Havily's case, it's fennel and honeysuckle. It's really funny. Another interesting thing is the rules for the Second Earth world, and how every thing works; I think the author has created a very solid world in her books.
The story line follows the same pattern as the previous book, which is the fighting against the Commander, the enemy of the good guys. We also get to see a little bit of each one of the Warriors and, of course, the basis for the next book has been prepared, as we know who will be the next couple.
The romance was fun. It's a bit weird, I confess, to see them talk about their past relationships and how long it was, and how they had families…I mean, there's a certain trend in romances to see the main couple happier now than when they were with others before, but in this case, the characters live for so long, it's understandable they could have been happy with other people before, and to have had families, actually both Marcus and Havily had had children a long time ago… in a way, it's strange to think about it…but overall, it's not such a big deal, but weirs it's for certain.
In the end, Havily and Marcus understood each other and got their HEA. I think the path for their happiness wasn't easy, but it suited their personalities and desires, I liked it.
The books are quite big, more than 400 pages, so lots of things happen, being a huge part of it the preparation for the book after. Things are prepared and I can't wait to see what happens next!