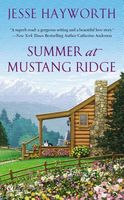 "A single visit to Mustang Ridge can change a person's life in the most unexpected ways...."
Recovering from a difficult divorce and having problems with her daughter, Shelby accepts a summer job cooking at a family-run dude ranch. She hopes the animals will be just what her daughter, Lizzie, needs. Little does she know that ranch life will work some healing magic on her too.
When Shelby meets the head wrangler, Foster, she is put off by his brusque nature, but Lizzie takes an instant liking to the cowboy and his horses. While both Foster and Shelby have been scarred by love, it's not long before Shelby is drawn to the rugged cowboy and his thoughtful ways.
But with summer nights in short supply and Foster wary of falling for a city girl, a simple summer romance soon grows complicated. As the days dwindle, Shelby will have to decide not only what is best for her daughter, but also where her future--and her happiness--will be found.
Comment: This is one of those cases where the cover does make an impact. I like a beautiful cover as anyone else, but it's not my main concern in buying a book. However, after I decided I wanted this one, to see the gorgeous cover…it's really evocative and I was hoping to have a matching story.
This author is Jessica Andersen, I've read her paranormal books but since I found out this would be different I was really eager to read it. I was hoping her writing as Jesse Hayworth would be another great experience.
The story is about a mother and a daughter going to Wyoming during the summer. The mother, Shelby, is going through a tough time because her daughter Lizzie doesn't speak and no therapy helped so far. She hopes being around horses might be the key so she accepts the job and there they go. There, she meets many people and she even makes friends, in particular the owner of the ranch where she goes to work and her grandmother. She also meets Foster, he is in charge of the stables and there's an instant attraction between them.

It doesn't take that long for Shelby to see both the improvement in Lizzie as the good it would be to be there…longer.
Like I said, I was very hopeful about this book. I confess when I started reading I pictured a sort of Catherine Anderson and Robyn Carr mixture, as both of them write quite well in the genre. However, I have to say that, for me, this book was a bit of a let down. I felt really bad to think so, but I can't pretend I wasn't bored with the way the story was told, which I think wasn't that captivating or even worse with the main couple, which I think wasn't that good together.
We know they are supposed to have chemistry but I didn't feel it that much. I thought it was more convenient and although some of the scenes with them were good and even the ones with Lizzie, I still wasn't very impressed and to be honest I could move along without any problems. I was happy on how Lizzie dealt with her problem and those scenes were interesting, but I don't know, the book overall, wasn't that fascinating and after reading I could easily move along. I know they both had problems in their lives and things in their pasts they had to deal with as well, but I was more sympathetic towards Foster. Shelby didn't strike me as such a good protagonist, yes she had many qualities but I didn't care much for her, not sure why, but something about her wasn't very compelling.
In the end, it was an ok read, but for me, no more than that.
There's a small excerpt at the end of the book about the next story. It does seem more interesting, at least the protagonists look that way, and I believe I'll try it. If it's more of the same, I'll consider not reading the series anymore.