As Guardian of his clan, Feline Shifter Sean Morrissey is a powerful member of his pride. But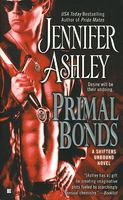 wielding the sacred sword is often a lonely role. When a female Shifter comes to town seeking refuge, Sean claims the new arrival, expecting a submissive little she-wolf. Instead, he finds a beautiful woman who looks him straight in the eye without fear, stirring the mating frenzy within him.
As a half-Fae. half-Shifter, Andrea Gray is used to looking out for herself. But in order to relocate to a new Shiftertown and escape an unwanted mate-claim. Andrea must accept a new protector. A Guardian seems as good a candidate as any, but Andrea's intense attraction to Sean is something she never expected -- and a perilous complication for a woman with a troubled past.
Now, as Andrea struggles to keep her seductive savior at arm's length. Sean is determined to turn their mating of convenience into the real thing before the frenzy they're struggling to contain burns them both from the inside out...
Comment: This is the second book in the shifters unbound series by mrs Ashley. Although the first book had a thing or two that wasn't very impressive, I was still curious enough about the whole thing to keep reading the series. This second book features Sean, the brother of the hero from the first book.
Sean is the Guardian of their shifter town, which means when a shifter is dying he stabs his guardian sword so the spirit of that shifter isn't lost. It's a very traditional thing but Sean feels the weight of that responsibility quite heavily. He is a honored shifter and when Andrea needs someone to claim her in this new shifter town Sean agrees right away because he feels it's his duty to help.
After some time, the claim starts to get itself noticed and they struggle a bit with the attraction between them but noting happens until apparently some hating humans start attacking shifter pubs and bars. The problems escalate as does Andrea and Sean's relationship.
I liked this story. I felt it was stronger than the first most likely because I'm already familiar with how things work in this "world". I thought the whole environment, the feel that the story seemed to give was more likable and, in a way, more stable too.
Sean and Andrea only got together because she needed to get away from an unwanted claim from another shifter, and she even changed cities too. Sean now claims her so she can be allowed to live in her new place but the claim was supposed to just be a technicality. Neither was counting on the attraction the claim would provoke on them. I think this part of their relationship was quite well done. It didn't seem too fast or forced even when we know what was going to happen, it was obvious they would be together eventually but they didn't rush just to get it out of the way. The attraction was there, they started acting on it but the way the author wrote this makes the reader believe in its small pace.
There's also the character's dealings with things important to them, such as Sean and the duty of the guardian sword, it's hard for him to kill people but he knows it's something he wouldn't give up not only because he was chosen but also because he feels it's a good thing.
Andrea struggled all her life with her half shifter status and how other shifters didn't like her for her half fae part but in this book she comes to an understanding on that part of her past and she even meets her father. So, both of them have some personal issues to work with at the same time they fall in love, it's a very complete book in the emotional field.
The story line features some attacks on shifter by hateful humans, but after some time we get to know what is really happening. I liked how the author dealt with the prejudice issues in this world, making it more rich, even when we just want things to be great all the time. I'm curious to see what the author is going to do with this in future books.
Overall, a great book, I enjoyed it so much I only took one day to read it. It had many elements to savor even the secondary sort of romance happening that finally has a conclusion - it came from the 1st book - and I'm very happy with it.
I hope the next book in the series is good too.