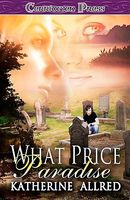 All his life Tate McCullom has been taught to be responsible, and he is the very model of what a respectable man should be. Until the night he gets drunk and sleeps with a woman he barely knows. Now, six weeks later, she's pregnant, alone, and broke. Once again, Tate must take responsibility for his actions, and makes plans to marry his child's mother. There's only one problem...he has to tell his fianc e. Abby Grayson hasn't had an easy life. As the daughter of the town whore, people either avoid her or think she's like her mother. For Abby, it's a struggle just to fill her belly and keep a roof over her head. Loneliness and a secret yearning for this man she thought she'd never have led her to spend the night with Tate. But the last thing she needs is a baby when she can barely take care of herself. Desperate, but too proud to ask for help, she finally agrees to accept a job from Tate the job of being his wife. Now she has almost everything she's ever dreamed of. Unfortunately, only one thing will gain her Tate's love - his realization that the night he spent with her was no drunken accident. It was a last-ditch attempt to win the woman he really wanted.
Comment: I picked this book because last year I remember seeing some comments somewhere about how good the story was and how the heroine was poor but had her pride and I just can't help but trying these kind of stories, I'm always looking for winners with this sort of blurb. I have to say this one paid off because I really liked it a lot.
Tate is a responsible man taking take of the family ranch, his younger brother and he has a fiancée that doesn't seem to appreciate his value but since they've been together since ever, everyone expects them to marry some day. But Tate has spend one night with Abby and can't seem to get her out of his mind.
Abby is the daughter of the town whore. She has been labeled since birth, no one wants anything to do with her her, she has a lousy job and cant' barely keep a roof over her head.
These two get together and Abby got pregnant. Now Tate wants to do his duty and they agree on it as Abby really doesn't have any other solution to take care of her child. But with struggles comes happiness as well...
I loved this story, it has many of the elements I love to read about in a romance.
Abby is poor, she has a part time job, difficulty to pay the bills, she has a undeserved reputation and she spend the night with Tate because she loves him and only wanted to offer some comfort. She tries hard to make ends meet and she is a kind person, she has her pride but she's not stupid to the point to say no to Tate when he offers marriage because she knows she doesn't have any way to help her own baby at that point.
Tate seemed a honest man...my only issue with him was how long it took him to make a decision about his relationship with Diana, the fiancée. I think he could have worked things out sooner but it wasn't something to ruin the story for me, after all it was part of the conflict.
While trying to work things out, Abby and Tate get to know each other better, they are attracted to each other but they get to slowly know each other before anything really happens more seriously between them.
Both their character's were strong but with the usual doubts people have in real life. I think their characterization was well done and how they acted was pretty believable too. I liked how they dealt with things and how their relationship developed after they talked about it.
I liked how the author dealt with the conflicts in this book. Nothing was weird or rushed or there just because. I think it's an emotional story with strong shows of friendship, help from the community, how you should trust yourself, those kind of good things you want to see in a sweet romance. Because this book is sweet and beautiful and I had a great time reading it even in the parts where I'd change a little thing here and there. In the end it was a winner for me.
I liked the style of the author's writing. I read the blurbs from her other books and all the contemporaries seem intriguing, I'll try another one in the near future just to see if my liking remains. If so, I'll certainly read the rest of her other books.