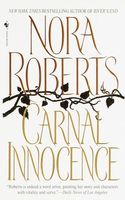 Strangers don't stay strangers for long in Innocence, Mississippi, as witty, urbane, and beautiful Caroline Waverly is quick to discover. Fame has taken its toll on the celebrated concert violinist, what with grueling tours and high-pressure performances, climaxing in an all-too-public breakup with the world-class conductor who is also her lover....
All Caroline wants from her stay in Innocence is a chance to be out of the spotlight--to live quietly in her family's secluded old bayou home with its lace-curtained windows and shady front porch. But what she is about to learn is that even in a town called Innocence secrets have no place to hide, and in the heat of a steamy summer night it only takes a single spark to ignite a deadly crime of passion....
For the sleepy bliss of Innocence is shattered forever by the deadly strikes of a killer at large, and Caroline falls under the spell of a town with a darkly deceptive nature...and a smooth-talking, irresistible Southern charmer named Tucker Longstreet whose seductive touch awakens her own carnal desires--and ensnares her in a killer's crazed dreams.
Comment: This year I decided to read two more books by Nora Roberts. Like I said before, she was my first addiction to romance novels and the first author whose whole work I had to get my hands on. To this day, apart from the chosen books in my TBR list waiting, there's only one book left from her back list I have yet to read and I haven't because I can't find it anywhere.
Anyway, this time I picked Carnal Innocence, a story set in the Mississippi, featuring a young woman who plays the violin but had a breakdown and went to her grandparents small town to recover. While there she finds a body belonging to a young woman and another allegedly killed by the same person.
One of the suspects is Tucker Longstreet, rich man from the town and known as a lazy womanizer. However, they get to know each other and both find out interesting things about themselves and a relationship grows between them. But the killer is somewhere plotting a new kill...
I'm a big fan of this author. Her books keep thrilling me even when it's not a mesmerizing story as my favorites by her. This was the case of this book. I know it was written a long time ago, so many things are close to that time and not as contemporary as that, but ms Roberts' usual trademark elements are there as well, such as the relationships between adults and children and how sweet they get to be, the slow paced romance, the psychological characterization of all characters, among other things that make us realize it's obvious this is a book by Nora Roberts.
The romance between the two main characters was a bit...unimpressive. I mean, after all those books she wrote of course some would have to be a bit weaker for any reader, but I have to say although she followed the expected liens in creating and developing a solid romance, it still felt not as entrancing as so many others. Things seemed to work out well for the characters, we got to see their scenes together but I wasn't convinced about them that much because it was too convenient how things started for them...when they were already involved I wasn't very eager to see them together because it was like they had their strong scenes already. Then Tucker is believed to be lazy and not caring about things but we find out he is and despite understanding how all the other characters not knowing would just keep the mystery about him, I still think it was all a bit silly, why couldn't anyone know he actually worked..oh well.
About the crime part, the killer was a surprise all right. But not by the identity, which I wasn't actually expecting, it was more so for the reasons why. I thought it wasn't very well explained and once again, despite understanding who knows how many weird people are out there in the world and knowing so many people are calculating and mean, I still think the reasons why this killer was like that weren't that believable...but well it was the beginning of the 90's, so...
In the end, I thought this romance was more worth it by the small things, by the children in there, by the little shows of the way people behave and believe in things in the south, the whole environment in the story than by the story itself. It's hard to explain. I liked some things, ok, most things in a way, but this wasn't any close to being a favorite. Still, way better than the ones I didn't like.
Around the end of the year I'll read another one..I have to space them out so I keep some to make me wonder still in years to come...thankfully she writes fast too...