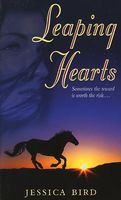 A beautiful young woman with a defiant spirit, A. J. Sutherland spends a small fortune on a horse with a wild reputation, and is forced to sacrifice her position at her family's stables to keep him. She plans to ride the magnificent stallion in the biggest event of the show-jumping season--and she knows she can win. But without the backing of Sutherland Stables, A. J. must rely on a stranger to help her: a man who makes her heart pound, her head spin...and who just happens to be a legend in equestrian circles.
When Devlin McCloud's career was cut short by a tragic accident, he never expected to get back in the ring. But when A. J. asks him to be her trainer, he finds he cannot resist the chance--or his stunning new employer. And what begins as a business arrangement soon becomes something deeper, as Devlin and A. J. learn that even in a sport full of hazards, sometimes the most dangerous thing to risk is one's heart....
Comment: This was the last book by the author I had to read. At this point, I'm not particularly interested in her Silhouette editions as I put aside all harlequin and similar books. I have to be selective and only special circumstances would make me grab harlequins now. Anyway, this is one of four contemporary books by the author. Now, that she's fully into paranormal, I have to say I regret that a bit, as I actually liked the four books, even the one I considered the weakest.
This is the story of AJ, she loves horses and the book starts with her buying a stallion nobody actually wants because he has a lot of phobias. However, as someone who has been around horses all her life, AJ is confidant she'll know how to train her new horse. But she won't be able to do it by herself, so Devlin shows up, he's a retired horseman, he used to compete but an accident ended up his career. He feels attracted to AJ and knows it's risky to train her, but they don't resist is and so their journey begins.
I liked this one. AJ seems a sympathetic character, she comes from a rich family but buying the horse was her first truly independent action and she spent all her money on that. Later on she takes drastic measures to pay off her debts to Devlin for his work. This shows she's not too spoiled and she cares about her responsibilities. I liked this part of her personality, because at first I wasn't very fond of her, trying to show off by calming down the horse and by feeling hopelessly attracted to Devlin the second she saw him. Do people really feel that much at first sight, it seems unreal to me. Anyway, throughout the book, I learned things about her and she grew up on me. She has secrets and I didn't like how she went about those, but I can't actually say if it were me, I wouldn't do the same, when something is important we might be a bit blind for justifications anyway.
Devlin was very likable as well, especially for one reason, despite being away from competition he isn't completely away from the world, and although he tried to stay away from AJ, when he made up his mind, he committed himself to the work and even to his feelings for AJ. I have to confess I was surprised by how easy it was for him to open up – after a while - even when trying to push AJ into a decision about their future whether if it was to be only as professionals working together or as soon to be lovers. At least, he had his principles.
There's a lot of talk about horses and I'm an ignorant of that, anything I might know it's because of books, so I felt the author did her research and I was impressed by how realistic it all seemed. Even the little details, like what might spook a horse, how to take care of a horse, I don't know… many details pertaining that world were addressed here and there. I know she had to, in order to make the story more complete, but I liked that, nevertheless.
In the end, this book was easy to read, interesting; it provided an interesting enough story, a couple with chemistry and a HEA to match. It's perfect to spend some good times with.