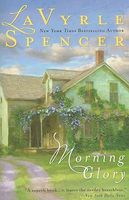 ELLY - In town, they called her "Crazy Widow Dinsmore." But Elly was no stranger to their ridicule--she had been an outsider all her life, growing up in a boarded-up old house under the strict eye of her eccentric grandparents. Now she was all alone, with two little boys to raise, and a third child on the way.
WILL - He drifted into Whitney, Georgia, one lazy afternoon in the summer of 1941, hoping to put his lonely past behind him. He yearned for the tenderness he had never known, the home he'd never had. All he needed was for someone to give him a chance.
Then he saw her classified ad: WANTED--A husband. When he stepped across Elly Dinsmore's cluttered yard, Will Parker knew he had come home at last ...
Comment: This month the theme of the challenge is books that have won a Rita or some award. I had three novels by ms Spencer and I thought it would be the best opportunity to read this book, which I knew so many readers loved, besides the fact it did win a Rita award. I was very curious about this book and why it's still in the best beloved romances even today.
This is the story of Eleanor and Will. Will is a poor man, an ex convict, and he is hungry. When his boss realizes were he's been, he's dismissed and again leaves. On the way he stops at a bar to read the paper and perhaps find something he could do and he sees an ad asking for a husband. Having nothing to lose, he goes to the address and finds Elly, a pregnant woman with two small children at her feet. Wary of each other at first because nothing in their lives has been easy, after some time together they start to see the beauty in the other and even with some challenges, they manage to fulfill their hearts with love and hope.
I did love the book. I wasn't disappointed after so much expectation and I'm really happy to have read the book and I get it why so many others loved it too.
I think it's the mix of apparent simplicity and romance that makes this so endearing to me. I really liked how the author created the right amount of background to make the protagonists special. These days, so many authors rush that or don't give it as much importance and sometimes it's not done in a very balanced way and somehow, in this book, all those things seemed well done and you can't help but notice when a story flows more easily, more naturally, better. I guess it's one of the reasons why this novel is so good.
Then, the two main characters..I really loved Will. He's one of those heroes that remains with you...I felt sorry for him when he was hungry and suffered injustices. Yes, the times were others but...were they really? Nowadays prejudice still happens. Anyway, I loved how he wanted to prove to Elly he was a good person, he deserved that place to stay and even better, I loved how patient he was about everything, especially from the moment he realized he was in love with Elly...he gave her time and that was wonderful. Of course he had his moments, but even when he seemed like a stubborn example of the male of the species, I still liked him.
Elly was sweet too. She is the kind of heroine I like, she's poor but has her pride, but she's not stupid to want to do things alone all the time and she treated Will with respect, something I really appreciated considering his past. I think the author has here a couple that proved they were worthy of each other and their inner battles only made them stronger and more receptive to cherish love and the feelings between them.
I'm not going to talk about all the little - and bigger - details about this story, but I really liked the pace of things, how the reader gets to learn things step by step, the information isn't dumped on us. I liked how ms Spencer inserted th things she wanted very cleverly, because the story feels so easy to come up with and I'm sure it probably wasn't. I think this is a romantic book, so many beautiful, special scenes with them, with the children, with the other characters. Loved the final scenes and even how Elly did something she didn't think she could just to help Will. Isn't it wonderful to read a story about a romantic true love?
In the end, I was really glad to have read this one. I'm now quite curious to read the other two I have by her. I hope they're as romantic even is not as good. This one I recommend, without a doubt.