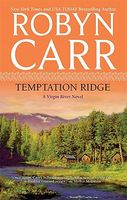 At twenty-five, after five years as her mother's caregiver, it's time for Shelby to experience freedom and adventure. Time for travel, college and romance. But when she visits Virgin River, she runs into Luke Riordan, decidedly not whom she has in mind.
A handsome Blackhawk pilot, Luke exited the army after twenty years, four wars and having been shot out of the sky three times. At thirty-eight he's tough and jaded. His major was in one-night stands, with a minor in commitment avoidance.
Technically, these two are all wrong for one another. But sometimes what you want and what you need are two different things...two very good things.
Comment: Sorry for being away for a while, some people say there are days one shouldn't get out of bed, well, in my case there are weeks I shouldn't get out of bed…the last ones were a fine example where I was always busy and couldn't take the time to be online. And when I did, the internet would stop me. This will be solved next month as I intend to buy a laptop by the end of July…hopefully the sign will be stronger to the laptop…
Anyway, this book is another one in the long Virgin River series. This time the story is all about Shelby, she's cousin to Vanessa from the previous book. Shelby only wants to spend some time with her family before finally getting on with her life after years of taking care of her ill mother. She meets Luke that same day and feels attracted to him although she isn't looking for anything serious. The same thing happens to him and therefore a quick with apparent no strings attached affair begins.
Well, I liked this book. Like with all the books in the series so far, I liked it. I don't think they're the most perfect thing ever, but I feel very happy to read them. Although, in general, I have to say I usually prefer the secondary storylines to the main one. In this story, the same happened. Not that it was bad, only that I found some parts of it a bit boring. I think my biggest issue with Shelby and Luke's relationship was how easy it was for them to be together even when they were saying they weren't looking for anything serious or even more when they stressed out how the other wasn't the kind of person they were looking for in the long haul. Ok, I know it's the plot, but after a while it became a bit boring to follow their wants and dislikes.
For me the best thing was, as usual, the connections between the other characters in the book. We get to keep seeing how characters from the previous stories are doing and we glimpse parts of their lives. Life goes on even in this fictional place, and as the storylines move forward to present new characters to enrich the community, so does the strengthening of what we already know to make us, the reader, feel welcome every time we read another story. In this book my favorite thing was to realize one of two characters we met before have their chance at love even if they're not the main couple presented. Although, concerning air time in the text, I don't feel the main couple has that much more emphasis than the rest, it just seems that way, I guess.
This book has several sub plots working together. It makes the story so much better and it's very good to understand how connected they are in a way that seems unimportant but makes sense in the end.
When the book ended I was left happy. Sure, a thing here and there wasn't that amazing, but overall, I liked the book and most parts. I hope the author keeps this trend with the next books, as I love how all the characters have an important role in each story.