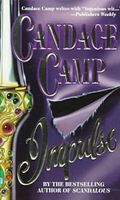 Torn from the arms of the woman he loved, cast into the night by her highborn family, Cam Monroe vowed revenge on those who had wronged him.
Fifteen years later, wealthy and powerful, Cam returns to England. Now the power is his, power to ruin the Stanhope family if they refuse his demands. And what he demands is simple: that Angela Stanhope be his wife.
Then the mysterious "accidents" begin. Are the Stanhopes trying once again to remove him from their lives? Or is it someone from Cam's past, someone desperate enough to kill to prevent him from uncovering a shocking lie? And how does Angela fit into this puzzle?
Comment: So far the computer has been helpful...this comment is shorter. I wrote it a few days ago and after re reading it, I don't know what else to say, as the book was plain OK for me...this was also the last book from june.
This is a book that went into my TBR list for one of those reasons I forgot about. But since it was there, I decided it was a good time to get it over with.
Cameron (ha, another one, book reading has its own quirky coincidences) is a poor stable boy in love with the rich boss's daughter, Angela. They meet in secret and want to be together until the day they are found out. Cam goes to America after being expelled from the premises and he vows to get his revenge. Many years later he returns and things are very different. He and Angela no longer seem to have anything in common, but with time…things change again.
This wasn't so bad. But there are some things here and there in the book that I wasn't very fond of, in particular how they dealt with a major finding in the end. Ok they were happy but the information they had, no matter how unimportant to them, wasn't something to just throw away. Oh well.
The romance was actually sweet; it was good to see Cam having patience with Angela, to show her she had nothing to be afraid of. There is a secondary romance, more subtle, but I liked the little scenes with the couple we had. I think it had potential to be a bigger story as well.
I don't know what to say, I liked this one but there's nothing I'd like to talk about, at least without spoilers. I think it's a romance that shows its writing time, it has some obvious dislikes for my personal taste, but overall, it wasn't so bad. It was good to occupy some of my time.