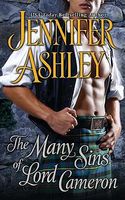 Cameron Mackenzie is a man who loves only horses and women -- in that order -- or so his mistresses say.
Ainsley Douglas is a woman with a strong sense of justice and the desire to help others -- even if that means sneaking around a rakish man's bedchamber.
Which is exactly where Cam finds her -- six years after he caught her the first time. Only then, she convinced Cam she was seeking a liaison, but couldn't go through with it because of her husband. Now a widow, she's on a mission to retrieve letters that could prove embarrassing to the queen.
Cam has no interest in Ainsley's subterfuge, but he vows to finish what they started those many years ago. One game, one kiss at a time, he plans to seduce her. And what starts out as a lusty diversion may break Cam's own rules -- and heal the scars of a dark and damaging past...
Comment: I've been very pleased with this historical series by ms Ashley so far. The first two books were great and I had high hopes for this one as well.
This is the story of Cameron Mackenzie, his main concern are his horses and his son. He doesn't want to remarry because of the awful experience he had at the hands of his former wife. But the action starts when he catches Ainsley looking through his things to find something he doesn't even know what. Ainsley is doing a job for the queen. She tries to be quiet but when she is looking in Cameron's room for the papers she thinks he might have, Cameron himself enters with another woman. She tries to hide but she is caught by Cam. He keeps her secret but doesn't let her go and so starts a game of seduction and love.
I liked this one a lot too. I think the author has done a great job with the characterization and made the characters more vibrant and interesting. But this has actually been one of her writing strengths as far as I could tell from all the different worlds she writes.
Anyway, I liked how she made someone like Cam, so proud and willing to be distant, to come to terms with his feelings for Ainsley and my absolutely favorite scene in the book is when he and Daniel have a meaningful conversation and tell each other what they really feel, it was such a beautiful scene between father and son!
The romance was very good, in fact. I t took some time even with the sexual innuendos and Ainsley's desires to be a free woman. I related a lot to some of her motivations and attitudes. I liked her and how she wanted to be daring but it was her quiet devotion to Cameron that made her so reliable, the reader ends up the book liking her because she liked him.
Cameron is a fascinating character, he has a past we got some hints about in the previous books but we finally understand why he is the way he is. It was very emotional to see him through those eyes and to see him fall in love and trust again. It's a great romance.
So far, he romances have been getting better as each book goes by. I have high hopes for the next one, as we did have a scene to wet our appetite for it. I hope this author keeps up with this level of writing because until this point it has been great.