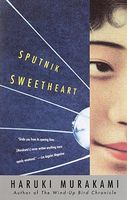 Haruki Murakami, the internationally bestselling author of "Norwegian Wood" and "The Wind-Up Bird Chronicle," plunges us into an urbane Japan of jazz bars, coffee shops, Jack Kerouac, and the Beatles to tell this story of a tangled triangle of uniquely unrequited loves.
A college student, identified only as "K," falls in love with his classmate, Sumire. But devotion to an untidy writerly life precludes her from any personal commitments-until she meets Miu, an older and much more sophisticated businesswoman. When Sumire disappears from an island off the coast of Greece, "K" is solicited to join the search party and finds himself drawn back into her world and beset by ominous, haunting visions. A love story combined with a detective story, Sputnik Sweetheart ultimately lingers in the mind as a profound meditation on human longing.
Comment: I had a conversation about this author with Christine months ago and after that we decided to read this book around the same time so we could talk about it. So, here it is my opinion about it.
This wasn't my first book by Haruki Murakami. I've previously read another book by him that I liked so I had some expectation about this one as well, to see if the other one had been only a random good surprise.
This story starts with the reader knowing about the characters from the point of view of one of them. The whole story is told from that character, and all the settings come from his eyes, even when someone else is telling a personal tale. We are, therefore, told the story of

Sumire,

a young woman, very peculiar, and how she fell in love with an older woman and how, after a travel to Greece, she disappeared without a trace. The narrator also had strong romantic feelings for Sumire, but he understood they wouldn't be returned and he settled for friendship, offering advice and an opposite opinion at times as well. After Sumire disappears he travels to Greece too, to help looking for her. But where is she?
I have to say, I wasn't convinced this short book could live up to my expectations, considering how I enjoyed the prose and rhythm of the other one. I thought it was that book. Now, I'm pretty convinced this author has a style that I appreciate a lot. Yes, it's a short book, but it flows and runs so easily even when stating the most introspective things. The author has such a talent for writing things in a way that makes me wonder and just stare at the beauty of the words. I guess, in part it's personal, I mean, I see things and they hit me in a certain way and for other readers surely it's different, this is why so many people can read the same and feel all different. But, for me this book worked and I liked how such a simple story could have so many elements that fascinated me.
The characters have all interesting things, and most of all, they all seem to have two sides. The ones they present to the world and the other, where they are different, more ethereal in a weird but justified kind of way. The narrator has his everyday life, with his affair with a mother of one of his students that will have to be solved. But he also has his friendship with Sumire and it's a side of him that reflects more, that thinks often. Then there's Sumire herself, she seems just a weird young woman, dedicated to become a writer, but what about her other self, could she be someone more? And there's Miu, the older women Sumire falls for. Miu has her different sides apart and she is conscious of that. So, in a way, this romance shows us we can have more than one personality, not in psychological level, but to ourselves, we are something around others, but to ourselves we might feel different, we might be different or not even knowing it or accepting it. Like I said, I like this characteristic of the author's writing, how he can present an idea in such a contemplative way, without being boring. It's very hard to explain, but I like how the author has done things, how he presents it to the reader.
In the end, I really loved the book. It seemed that it was a read that fit everything to suit me. I just had to read and I finish it in one day. Truly an inspiring read for me. As soon as I can, I'll stop by the library to pick more…I'm curious to know if it can become a trend, me loving this author's books, or if I just had luck so far.