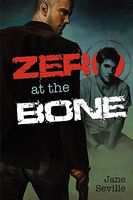 After witnessing a mob hit, surgeon Jack Francisco is put into protective custody to keep him safe until he can testify. A hitman known only as D is blackmailed into killing Jack, but when he tracks him down, his weary conscience won't allow him to murder an innocent man. Finding in each other an unlikely ally, Jack and D are soon on the run from shadowy enemies. Forced to work together to survive, the two men forge a bond that ripens into unexpected passion. Jack sees the wounded soul beneath D's cold, detached exterior, and D finds in Jack the person who can help him reclaim the man he once was. As the day of Jack's testimony approaches, he and D find themselves not only fighting for their lives... but also fighting for their future. A future together.
Comment: For a long time this book has been in my radar. I got it but at the time I couldn't get to it right away and you all know how these things are, it just stayed there…waiting. Still, I was very aware of other reader's opinion about it and how great it was and so on. Last month I finally decided it was a good time to get to it and it went to my list of June reads.
This is the story of Jack and D, a doctor and a hit man. When Jack witnesses a crime, he goes to the witness protection program until the trial. D is the hit man hired to kill him, but he can't. So, they run away together and try to stay hidden close to the trial so Jack can't be killed by any other hit men. In the adventure, as they spend so much time together, it's inevitable they get to know each other a bit better and they even start a relationship.
I liked this story quite a lot. It was very entertaining and thrilling to follow the guys throughout their escape and developing feelings.

Things also took time which imprinted a more believable feel to this story. I think the author was very talented to have written such a balanced story, because we didn't have too much of something and little of other things, and this balance also allows the reader to be impressed, to follow what is happening in terms of action but at the same time expecting some clue about them and what they're feeling.
I liked both characters. None was too weak to have their personal demands and even doubts, but I was so happy to see them fall in love and to the end they were indeed in love and there are plenty of romantic moments. Jack is more down to earth and he isn't afraid to take a chance on D even D himself wasn't expecting to have someone trusting and loving him that much. I really think they have a balanced relationship. Not perfect, because challenges happen everyday, but their feelings seem solid and true.
The author did her research because there are so many elements from the workings of a witness protection program, little hints about how it's done, and even about weapons and specific details about police procedures and hired men and women's dealings. It's all very well supported so the story also has a better base to give it credibility in some aspects. At least, for someone so far away from that reality it seemed so.
In the end, I really enjoyed reading this story and couldn't put it down because I was so curious about what would happen next. It's a really good bet for anyone who likes the genre.