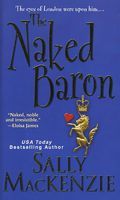 New to London society and rather...awkward...Lady Grace Belmont would just as soon hide behind the palm trees as dance with a man she doesn't know. But Baron Dawson is on the hunt for a wife. Grace's generous curves and remarkable height do not intimidate him. In fact, it would be more accurate to describe his reaction to the charming newcomer as lust.
Before Grace can so much as gather her thoughts, she finds herself in his arms, committing one shocking impropriety after another. The Baron's devilish attractiveness--to say nothing of his splendid muscles--is simply impossible to resist. Her beloved aunt and chaperone advises patience, but Grace is not about to listen. The handsome baron is whispering such delightful things in her ear...
Comment: Although I didn't like the first book that much, I decided to read the other books I have by the same author anyway. I'd feel guilty to have them to read and this way I just get them out of the way. And, who knows, perhaps there's some gem in there for me.
This book isn't the one the author wrote after the first one, The Naked Duke. However, I visited her website and according to her chronology, the action in this book takes place at the same time as The Naked Duke, so I think it's best to just follow her chronology.
This is the story of Grace

and Dawson.

They meet at a ball and feel immediately attracted to each other.

Lord

Dawson sees in Grace everything he is looking for in a woman and possible wife and sets his eyes on her. She is a bit more reluctant because of the family history between her father and lord Dawson's mother. At the same time, we get the secondary romance of Grace's aunt, Kate and

lord

Dawson's uncle, Alex. They were in love in the past but fate happened and they separated and now they meet again and this time there's no running away.
I thought this book to be just average, It has a solid enough storyline and even more interesting secondary characters, but I wasn't much impressed with the main couple. I guess they are a good match for each other but there's nothing about them that made me eager to know them better. I was much more interested in the secondary romance, with a different conflict and expectations and which I think was better done.
Lord
and Grace seemed ok on their own but together they didn't seem to work very well. In a way, I think it was due to the fact they started to show signs of strong feelings right away. This is so illogical to me, and to be honest, the way the author developed the storyline in this regard didn't win me over. It was all so…boring and unappealing. If not for the other romance, I think this book would be more than boring. But I admit I was quite eager to see what was happening to other couple, thus my better enjoyment of the book.
Still, nothing major about this book. Neither the main couple nor the story was intriguing or interesting enough to compel me. I do hope the remaining ones I have can offer better entertaining hours.