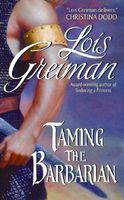 Since escaping a dangerously abusive marriage, Fleurette Eddings, Lady Glendowne, has reveled in her freedom--turning the heads of the ton with her unrestrained enjoyment of life. But her extravagant purchase of the statue of a fourteenth-century Celtic mercenary seems beyond the pale, even for the vivacious young beauty--especially when a powerful, breathtaking, and oddly familiar stranger mysteriously enters her world
The warm caress of an exquisite lady has awakened Killian, Sir Hiltsglen, the legendary "Black Celt," from his centuries-long slumber. To end the curse that encased his spirit in cold stone, his destiny is now bound to the infuriating lass who set him free--and who tempts the great warrior with a smoldering sensuality that inflames his barbarian desires. For Fleurette is hiding a dark secret and is in dire need of a champion--and Killian's mission could be compromised by an unbidden love that transcends time.
Comment: Here's another one of the books in my TBR list that got here for some reason I can't remember right now. But I got it and the sequel because it seemed a good thing at the time.
This author apparently has other types of stories but I haven't tried anything else by her before, so this was a completely new experience for me.
This is the story of Fleurette, she's a young widow and she lives her life to the fullest. During one of her travels she sees a captivating statue and somehow that statue turns up in her garden. She doesn't now why but surely it isn't a coincidence that at the same time her path crosses with Sir Hilsgren, a man from the Highlands.
Killian, the "Celt" has been the target of a curse and he has live as a statue for centuries until Fleurette touched the statue and somehow made him return to life. But there's something very alluring about her...
Ehh..I'm not even sure how to start, but to be honest, this story wasn't that amazing. I wasn't that eager to turn the pages or to know what would happen and I just wanted to get it over with.
The story had many confusing moments, segments and many ideas all mixed together. I wasn't sure of what was really important in this story and I found many elements not properly dealt with. For instance, Killian had come from another century, had been a statue and had to learn how much different things were now in the 19th century but apart from one scene or another, there wasn't much emphasis on that experience for him. I found it really strange. Then, there was Fleurette herself, she had a lot to deal with from her past, but she never found out who and how Killian was to be there...it was all so very unexplained. Oh and Killian's friend, the wolf, which I suspect will be the hero for the following book, his presence was never explained and no one seemed to wonder about him. Everything was so...randomly mentioned that I didn't like the writing style at all.
The characters had their good and bad characteristics but I think at some point the author wanted to add some mystery but for me it felt rather unnecessary as the things we wanted to know about Fleurette and Killian were inserted throughout the story when needed.
The villain was smart but I don't think it was that brilliant. But in a way it was the "punch" the story needed to have some sort of finish because all things considered, the story felt very weak for me.
This was one of those cases where the story was a big let down, but not as much as I thought because I didn't have any specific expectations about it.
Considering I wasn't impressed at all with this one I wonder why should I read the next one...oh well, who knows, it has a shape-shifter, perhaps that will save the day....