In the heart of New York City, hidden in the back room of an old Laundromat, are nine rare and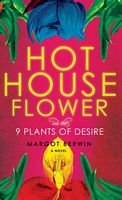 valuable plants. Hothouse Flower and the Nine Plants of Desire tells the story of this legendary garden, and the distance one woman must travel--from the cold, harsh streets of Manhattan to the lush jungles of the Yucatan Peninsula--to claim what is hers.
Lila Nova lives alone in a plain, white box of an apartment. Recovering from a heartbreaking divorce, Lila's life is like her home: simple, new, and empty. But when she meets a handsome plant-seller named David Exley, an entire world opens up before her eyes. Late one night Lila stumbles across a strange Laundromat and sees ferns so highly-prized that a tiny cutting can fetch thousands of dollars. She learns about flowers with medicinal properties to rival anything found in drugstores. And she hears the legend of nine mystical plants that bring fame, fortune, immortality, and passion. The owner of the Laundromat, Armand, presents Lila with a test: if she can make the cutting from a fire fern grow roots, he will show her the secret of his locked room. But Lila is too trusting, and with one terrible mistake she ruins her chance to see Armand's plants. The only way to win it back is to travel, on her own, to the Yucatan.
Deep in the rain forests of Mexico, Lila enters a world of shamans and spirit animals, snake charmers, and sexy, heart-stopping Huichols. Alone in the jungle, Lila is forced to learn more than she ever wanted to know about nature--and about herself. An exhilarating journey of love and self-discovery, Hothouse Flower and the Nine Plants of Desire brings together mystery, adventure, and heat, in every sense of the word.
Comment: This book has been waiting to be read for three years in the pile..well, the shelves, because I don't actually have piles. When I bought it, as a translation, it was at a book fair and I thought it would be suitable for a late summer read but...times goes by and it stayed behind...
The blurb above says pretty much everything about the story line. Lila goes on a new adventure, the kind that we all start after something major happens to us and an adventure can be just beginning a new hobby like how Lila tried with her plant.
I actually enjoyed this book a lot. It wasn't perfect but it had a story I liked and a certain feel I found appealing.
Lila is a young woman and she tried to have something new in her life and of course the search for the plants is an interesting metaphor for what life is, when we all look for the things the plants symbolize because it's what we believe life is for. Lila looks for those things, so in a way, this book is a bit about the things we need to find for ourselves instead of just being a fictional story. But I think the author has been very clear in the distinction between what she wants to convey and the tale she is telling. I never thought she was trying to impose me, as a reader, an idea or a sort of self help guide. The focus is strongly meant to be on the fictional part and I liked that quite a lot.
Lila meets some people during her adventure and like always, who we met also have some influence in our actions and I felt sorry for her when things weren't going well for her. I was very surprised to see some things happen because we were lead to believe this and that and after all it wasn't all that obvious, I liked to be surprised. There are many elements that make the reader have that reaction, actually.
I don't think this story is perfect because there are some details I'd have done differently, namely how the story reached its peak. I don't think it was the best way, although it suited the story line at that moment. Oh well...nobody's perfect anyway.
Based on this story, which I enjoyed, I think I'm curious to try her second novel, out this year...perhaps in the future I might get it. As for this one...it's certainly worth the try.