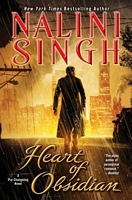 A dangerous, volatile rebel, hands stained bloodred.
A woman whose very existence has been erased.
A love story so dark, it may shatter the world itself.
A deadly price that must be paid.
The day of reckoning is here.
From "the alpha author of paranormal romance" (Booklist) comes the most highly anticipated novel of her career--one that blurs the line between madness and genius, between subjugation and liberation, between the living and the dead.
Comment: I'm sure there are many other reviews out there about this book that are so much more articulate and expressive as mine wouldn't ever be, so I'll just leave my overall impression. I liked it, more because it's by this author and because it's part of a world I love to be in. Considering the particularities of the main characters, I think ms Singh has done a great job keeping the balance between what is believable according to her own "rules" and what we expect from a romance. We find out things we were eager to know and we get to see a side of things we also didn't imagine that well, it was a very insightful story into the world of psy and changelings. I can't wait for more.
Marine corporal Rick Sudder is home early from Iraq--his tour ended abruptly on the battlefield. The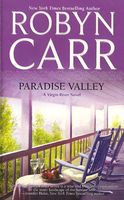 carefree boy is gone, replaced by a man who believes his future is as bleak as his mirror image. But can the passion and commitment of a young woman who has never given up on him mend his broken body and shattered heart?
As the people of Virgin River rally around Rick, another recent arrival tests the tightly knit mountain town's famous welcoming spirit. Dan Brady has a questionable past, and he's looking for a place to start over. He'd like it to be Virgin River...if he can find a way in. But he never expects to find it in the arms of a woman who was as much an outcast as himself.
For a favorite son returned from war and an outsider looking for a home, Virgin River offers them a chance to make peace with the men they once were...and to find the dreams they thought they'd lost.
Comment: This is another book in the Virgin River series. I loved this one! I like how the books don't revolve around just two characters; I like how we see so many story lines developing at the same time and how everyone there works for a sense of community and friendship. In this book we keep seeing Cam and Abby, Walter and Muriel, Ricky and Lizzie, even Dan and someone we didn't expect. I can't wait for the next book to keep moving alongside all those characters and their lives. It's such a warm and heartfelt world, one can't disconnect from it even between books.