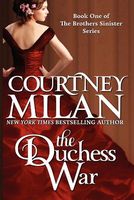 Miss Minerva Lane is a quiet, bespectacled wallflower, and she wants to keep it that way. After all, the last time she was the center of attention, it ended badly -- so badly that she changed her name to escape her scandalous past. Wallflowers may not be the prettiest of blooms, but at least they don't get trampled. So when a handsome duke comes to town, the last thing she wants is his attention. But that is precisely what she gets. Because Robert Blaisdell, the Duke of Clermont, is not fooled. When Minnie figures out what he's up to, he realizes there is more to her than her spectacles and her quiet ways. And he's determined to lay her every secret bare before she can discover his. But this time, one shy miss may prove to be more than his match...
Comment: After having read the prequel novella, The Governess Affair, back in January, I was quite curious over how the story would develop. This book happens several years after the novella and presents a different set of characters. The readers have had a hint about the series in that novella and it was more because of that than the novella itself that I wanted to keep going and discover if this author would become someone whose work I'd appreciate.
This is the story of Robert Blaisdell, he's a duke now and his biggest wish is to prove he isn't like his late father. All his life th worst thing he could hear was how alike his father he was and so he set to change things any way he could to be different from him.
Minerva Lane is hidden, she is using another name and personality to be unnoticed by others, as she comes from a scandalous past and doesn't want to revive the awful experience of those times when everyone would stare and point fingers at her. She wants to be left alone but her spirit isn't dead and deep down she wants to be recognized by her strength and her intelligence.
When they meet by chance, apparently nothing comes out of it, but circumstances make Minerva take a first step and from then on, their paths are just too connected to be dismissed...
I didn't enjoy the prequel novella to this series in all its glory There was an aspect there that I think wasn't done the best way, so I was expectant but not overwhelmed by the prospect of reading this story, I was curious to see how things would play. Therefore, I was completely amazed by how much I really loved the book! 5 starts for me, without a doubt.
I really liked the story and all the layers the author gave to each main character and how they slowly figured out they could be together and be stronger than apart.
Robert had some issues because of who his father was and the things he did. Knowing his father's character, he tried his best to change his future, to make things right where he felt his father did wrong. He has a stunning personality, he's someone I'd like to meet because he has principles even to his half brother and he protects him as much as he can. His relationship with his mother isn't the best either but at the end we see glimpse of how things could be and it's hopeful. I think the work done, the evolution of Robert's confidence and trust is something wonderfully done.
Minerva too, had some things to worry about. She's been living in fear and hidden, hoping to marry and just exist, to pay her aunts for their help when everyone else shunned her, but she feels trapped and miserable because she is smart and loves life and her way of doing things is more active than quiet but she's tried to be someone completely different just because it was safer and it was expected of her. Now she meets Robert and with that comes the realization she's tired of being something she's not and some things happen and she tries to solve her life before it's too late, but she wasn't counting on falling in love and at some point she has to make a choice and I was really sorry for her.
Thankfully, this is a romance and the author created the right path for those two to walk and it was perfect the way they saw each other for what they really are and together their strengths became better and bigger. It was such a beautiful romance, slow paced, perfectly constructed and aligned. It felt lie all the pieces fit at the perfect moment to make this story more alive and well done.
I think the author did a great job with the character's construction, their particularities and thoughts and it was such a pleasure to meet them and see them fall in love. Great work, I can't wait to read more.