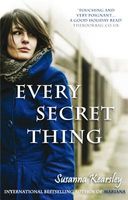 Comment: This is another of the books by the author I have. As soon as the last published one arrives, I'll have a full collection of Susanna Kearsley books. As it happens with everything, I prefer some to others, but overall, all of them are a worthy story to enjoy.
Every Secret Thing is a mystery novel. It doesn't have any paranormal element like the others do and apparently it's the first of a trilogy, which isn't completed yet. Or written as far as I can tell. This story is about Kate Murray, she's a journalist that one day meets a man who tells her about a murder that happened years ago. But before ate can find more, the man is killed in front of her. Then, she starts a voyage through the places connected to that man until she finds out about the murder and the guilty one behind it.
I liked this one. At first it didn't seem that special and I confess I had some trouble concentrating. But then I took some time to just read instead of multitasking and the story started to have more deep than what I thought. This is a mystery and it has the deceiving slow pace and the expected fast pace at some points to prove it. I liked how the author wrote things in a way that seems so simple but has some depth attached to things, like motivations and secrets.
My favorite thing, though, was that part of the action took place in Portugal. It's so funny and special to see places you now in books written by authors whose work you like...it's not the same to read books by Portuguese authors, whose take on the country's reality is something you don't find any "newness" in, but when is someone without prior knowledge, someone from a different place and reality...and the author has talked about several details of the places in Portugal where the action happens and I know them too, I actually live close to one and it's fascinating to see a place I'm so familiar with in the foreign pages of an international book. It really feels special.
The characters are easy to relate to. Even the ones that don't seem as important. The story has the author's characteristic double time frame, a story nowadays and scenes from things of older years. The two story lines develop at the same time and are obviously related. I found myself so sad over the older story...it has sad scenes of things done but not said, of things given up and sacrificed...it's a true lesson to thin you could change your life with a word but sometimes it's a conscious decision to remain silent. It's really tough to thin about the "too late" when we can no longer say or do what we want, after such long time has gone...
Anyway, sadness apart, the reader easily sympathizes with the characters and their struggles as well as their losses and it makes us feel more conscious about our own lives. I thin the author has done a great job with this book.
I still have books by her to read, I plan to space them a bit ore in the future, but I see myself devouring the remaining ones as fast as I went though this one and the previous ones.