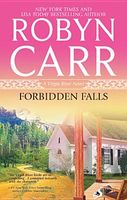 The young widower arrives ready to roll up his sleeves and build a place of worship and welcome, but he needs some help. And the Lord works in mysterious ways....
With her tight shirts and short skirts, "Pastor's assistant" is not a phrase that springs to mind when Noah meets brassy, beautiful Ellie Baldwin. The former exotic dancer needs a respectable job so she can regain custody of her children. And Noah can't help but admire her spunk and motherly determination.
The pastor and the stripper: an unlikely team to revitalize a church, much less build a future. The couple has so many differences, but in Virgin River anything is possible, and happiness is never out of the question.
Comment: Keeping up with the Virgin River series reading, another months means another installment. I found out that reading one book each month makes things easier in terms of not getting too bored by reading the same thing repeatedly and by spacing out the books, in a very illusionary way I have the idea they last longer. This month it was time for the 9th full length story, Forbidden Falls.
This is the story of reverend Noah Kincaid and young ex striper Ellie Baldwin.
Noah is a widower and he buys Virgin River old church on eBay and many thin he's crazy. But the population of Virgin River proves a Presbyterian reverend is indeed welcome. Noah thins he's ready for his own congregation in a small place where people are simple but welcoming and in a place where he can have a quiet but fulfilling life. So he buys the church and renovates it. He also looks for an assistant to help him and to keep things clean and organized.
Ellie Baldwin wants to have custody of her children again. So she leaves her job as a striper and wants something more respectable. She's young and seems too carefree but she's in fact a hardworking woman and desperate to have her children back. She starts working for Noah as a simple assistant but with time they not only become friends but start feeling something for each other...
I loved this story!! This is now my absolute favorite of the whole series. It's so wonderful and funny and sweet and passionate, I think the author nailed it with this one.
I liked all elements in the book. The biggest focus is Noah and Ellie but we have a lot of Paul and Vanessa as well. Some of the others show up but not as much as those. Ellie and Vanessa become friends and we see something very common but that some people don't give much importance to when Paul and Vanessa are asked to raise someone else's baby. I liked this segment of the storyline.
Then there's Noah and Ellie's relationship. I liked how they seemed to have an preconceived idea about each other because of their respective occupations, but that changed while their friendship developed. Noah helps Ellie a lot because of her problem with the ex who has her children and during those times they become closer. It's also wonderful to watch how they slowly start to see that the other is so much more than meets the eye and the attraction between them is stronger and truer than any doubts. I really lied the romance between them and I thought it was one of the most beautiful romances in the series.
I liked Ellie specially. She had everything to be a plain and not that good heroine but in the end she proved to be amazing, very hardworking and friendly and always helping those who might need. She wasn't reckless or too out there either. She had enough attitude to be strong but also a more sweet side I thought was really special. She's a great heroine.
Noah is an interesting hero as well. I guess the fact he is a reverend can be weird for some, specially when he so open about his attraction towards Ellie but I didn't find it a bad thing. It was quite interesting to read about, actually, because his personality was friendly and I liked him and the way he behaved. He had some issues to deal with, in particular his father, but like in real life, we can't always fix things in the blink of an eye, so I wasn't disappointed his issues in that front weren't solved.
I really liked this book. It was special all the time and I couldn't stand to put it down. It's definitely my favorite and I recommend it t everyone.