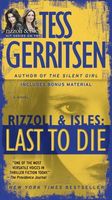 For the second time in his short life, Teddy Clock has survived a massacre. Two years ago, he barely escaped when his entire family was slaughtered. Now, at fourteen, in a hideous echo of the past, Teddy is the lone survivor of his foster family's mass murder. Orphaned once more, the traumatized teenager has nowhere to turn--until the Boston PD puts detective Jane Rizzoli on the case. Determined to protect this young man, Jane discovers that what seemed like a coincidence is instead just one horrifying part of a relentless killer's merciless mission.
Jane spirits Teddy to the exclusive Evensong boarding school, a sanctuary where young victims of violent crime learn the secrets and skills of survival in a dangerous world. But even behind locked gates, and surrounded by acres of sheltering Maine wilderness, Jane fears that Evensong's mysterious benefactors aren't the only ones watching. When strange blood-splattered dolls are found dangling from a tree, Jane knows that her instincts are dead on. And when she meets Will Yablonski and Claire Ward, students whose tragic pasts bear a shocking resemblance to Teddy's, it becomes chillingly clear that a circling predator has more than one victim in mind.
Joining forces with her trusted partner, medical examiner Maura Isles, Jane is determined to keep these orphans safe from harm. But an unspeakable secret dooms the children's fate--unless Jane and Maura can finally put an end to an obsessed killer's twisted quest.
Comment: This is the latest installment in Tess Gerritsen's Rizzolli and Isles series. It's been out since last year but I've been waiting for the paperback edition as I've been buying them in that version and wanted to keep my Gerritsen collection that way.
This time, the adventure takes Maura to Evensong, the school where Julian is now. Julian is the boy who helped her in a previous book, Ice Cold, and now Maura feels a connection to him. In Boston, Jane is dealing with murders where there's always a surviving child. Three of those children are sent to Evensong and Jane goes there too. In the middle of all this, is there any other link between what is happening in Boston and Evensong school? Or is it all just coincidence?
Once again, I have absolutely no words of complaint about a book by this author. This book was 5 stars for me and I honestly thin that, at this point, there is no other writer who might compare with Gerritsen in writing this sort of novels. Her books are wonderfully done and perfect in the balance between mystery segments and character's personal development. Of course, there's always a thing here and there we could change but nothing to the point of ruining anything in the story.
Like always, Jane and Maura have interesting conversations and they are the motors in the stories. I like how their friendship evolves and it's not immune to some bumps. I was so glad to see them talking for real after something that happened before that put some strain on their relationship.Even better was to have the confirmation they are true friends. It's always enjoyable to see scenes with them and their closer "people", Jane's family and Anthony and Julian in Maura's case. The author doesn't stop reality just because of murder and I like this domestic side to a story that could be too strong emotionally.
The crime and mystery in the book are, as always, smart and not totally obvious. After a certain point it's very suspicious how things might have happened, but never would I guess what really happened to induce the main crime in this book and, like it happened in other books before, it's something not that far fetched to imagine, which only makes me more amazed at the author's talent to create the perfect atmosphere to an apparent tricky plot and making it simpler than it seemed. Usually with most authors it's the opposite, right?

The end is a surprise and, in my opinion, very appropriate. And still keeping some mystery, I loved it.
I really recommend this author to everyone, it's impossible not to like these novels, to say the least. It's truly one of my favorite authors ever!