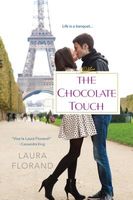 Dominique Richard's reputation says it all--wild past, wilder flavors, black leather and smoldering heat. Jaime Corey is hardly the first woman to be drawn to all that dark, delicious danger. Sitting in Dom's opulent chocolaterie in Paris day after day, she lets his decadent creations restore her weary body and spirit, understanding that the man himself is entirely beyond her grasp.
Chocolate, Dominique understands--from the biting tang of lime-caramel to the most complex infusions of jasmine, lemon-thyme, and cayenne. But this shy, freckled American who sits alone in his salon, quietly sampling his exquisite confections as if she can't get enough of them--enough of him--is something else. She has secrets too, he can tell. Of course if she really knew him, she would run.
Comment: I've loved the two books by this author I've already read and this is a series I'm very invested in, not only because of the character's lives or the plot itself but mainly because the author has created a style where what's around the characters matters and it's done with purpose, unlike so many books where it's all about the characters and honestly, no one is an island.
This is the story of Jaime Corey and Dominique Richard, two characters we've heard things about in the previous stories.
Jaime is struggling because of what happened to her an she's still trying to come to terms about who she is and what can she do. She takes comfort in Richard's chocolates and after meeting him, she wants to use him to bolster her will to live, but she isn't prepared for the strength and feelings Richard wakes up in her.
Dominique Richard is someone most people think is tough and not polite. But deep down he wants to be accepted and fears his manner and hands aren't proper for someone as delicate as Jaime. But desire opens the door to something bigger...
Like it happened with the other books in the series, I loved this one too. I thought the story was strong and portrayed interesting psychological features of the two main characters.
Jaime has had an awful experience in the course of her work and only to present a message to the world as the is a figure of importance. Jaime was traumatized and thinks her courage and determination are over, so she takes refuge in Paris, where her sister now lives. Jaime feels trapped, not by Paris, but by her emotions which she feels can't be controlled. She thinks she might live a life of fear.
Dominique Richard is someone who went from the worst life possibilities to the top. But in his mind he's still the butcher with the big hands and despite being successful and an imposing figure, deep down he also fears judgment and that he isn't able to have deep feelings. But after meeting Jaime, he starts to realize maybe he can achieve happiness as well.
I thought their romance was quite balanced, for both of them had issues to overcome and change before admitting their feelings. I thought the development wasn't too fast, therefore more believable.
I liked how Richard was all for Jaime and her feelings, not caring about bribes or fears. Overall, this was a good romance.
The secondary characters also have a part and we find out some things because of them, which I loved. Most people already know I have a preference for stories that can provide that family feel without being too cheesy or cliched.
Another thing I liked is how we see a lot of the guys' work in the story. They make chocolate and this isn't there just to provide those escapism scenes where the characters think while working. It's obvious the knowledge about chocolate in the pages and how it's done and how it also plays a part.
Very good.
All in all, a great balanced storyline, with very strong elements included. It only could be better with a bit more angst, not too much, maybe a little bit just to make things a bit more powerful. I' not saying it needed it, just that I, personally, would have liked to see it.
But trust me, this is a great book.