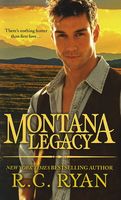 They're the McCords...three rugged, sexy cowboy cousins who'll inherit the family range--if they seek the treasure hidden on it. But even more precious are the women who can tame their wild hearts...
She was the one person who shook Jesse McCord's quiet determination. She was the only one he ever let in, body and soul. Then suddenly Amy Parrish was gone and the oldest McCord cousin devoted his life to the family ranch. Now Amy is back, offering help to Jesse find the McCord gold. Yet Jesse's not about to give her a second chance, and he hopes his pride will protect him from her irresistible charms. But under the wide prairie skies a dangerous, unseen enemy is fast closing in, threatening Amy and Jesse's very lives and the promise of their ...Montana Legacy.
Comment: I got this book in march and I got it already thinking it would suit this month's theme. I haven't read anything by the author either and I was curious to see if I had here another auto author.
This is the story of Jesse McCord. His beloved grandfather has recently died and he is very angry and hurt. In the will, his grandfather desired his three grandsons to keep looking for the treasure said to be lost somewhere in the family's land. Jesse doesn't see his cousins often and e isn't convinced they would stay long enough to fulfill their grandfather's wish, but he welcomes them and after a while the search is on. Then there's Amy, the neighbor's daughter and someone with whom Jesse has had an history...
This comment won't be that big. I wasn't impressed at all with the story and to be honest, I found it boring and unattractive. It wasn't even the case of just wanting to get it over with, it was more the fact I didn't want to pick it to read.
The whole plot revolves around the search for the gold but not once in the story they do look for it or should I say, the reader doesn't see that They talk about it, and we see them planning things but it's more talk than action.
The romance isn't good enough for me. I wasn't eager to see them together and the fact they are lovers reunited also puts me off as I don't tend to enjoy those stories much. They didn't seem that passionate and despite being together intimately a couple of times those scenes were also not very impressive as I had the feeling of reading things like tat a million times and to be honest many authors write more vibrantly. Besides I felt I never knew them that well, they're boring and it looked like there wasn't anything special about them.
The villain was a surprise I didn't see coming, I'll give the plot that. I didn't expect it and in a way, it was the highest moment in the book.
The old grudge between neighbors was solved in an event and once more, if things were that simple to solve, why bother...
The writing isn't very appealing. I thought the way things were done wasn't special or particularly interesting. I really didn't care much for those characters or the situation they were in. The ratings at goodreads aren't that bad, so I guess it's just me. I guess this story didn't push my buttons anyway and in the end it wasn't such a great thing.
I'll leave it here, as I don't know what else to say. I just didn't give this only one star because of that villain surprise and because there were some interesting possibilities about another character...which I fear I won't see because I don't feel like reading more. Another author with a dead end for me.