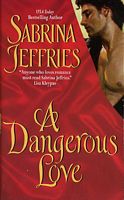 Griff Knighton's found the perfect way to avoid being trapped into marriage with one of the Earl of Swanlea's daughters: he'll swap identities with his man of affairs during their next visit to Swan Park, and be free to pursue his own desires! After all, he's not about to marry some homely spinster just to claim his rightful title. But Griff didn't reckon on the brazen, voluptuous Rosalind, who could tempt even a saint into sinning--and Griff is no saint.
Rosalind wants no part of the plan to marry her off to her father's wealthy heir--and his man of affairs is even more intolerable! The arrogant man clearly doesn't know his place, but the sparks that fly whenever they're together make her wish he's no mere servant. There's something slightly dangerous--and a little mysterious--about this man...
Does she dare to risk her heart to a man whose secrets could destroy that love?
Comment: This is my first attempt with something by this author. I've read somewhere that in this story we'd have one of the characters pretending to be something they're not and I usually like this premise, in particular how it was done by mrs Chambers

in this book here

, which I loved.
Anyway, I thought if this book was ok, I'd have another author to look for.
This story follows Griff Knighton. He is a rich man looking for the proof of his legitimacy now that he he is almost in the House of Lords and he wants that proof as soon as possible in order to be part of a business arrangement. The paper with his parents valid marriage certificate is in an uncle's house, and the fastest way to get it is to agree with a marriage to one of his uncle's daughters. So there he goes exchanging places with his man of affairs, so he can have ore free time to look for the certificate.
Rosalind is the middle daughter and very sharp. She doesn't let Griff snoop around and is decided to follow him and find out why he is so arrogant and what is he looking for. She doesn't want to marry or wishes to see any of her sisters do the same, and she tries to show it wouldn't suit their cousin to marry any of them. But Griff is always around and there's something strangely appealing about him...
In terms of plot, this story wasn't the strongest I've seen. It was just a little bit over the top because by the scenes we see it's too obvious Griff isn't who he says he is and I really thought he would change his behavior a bit to be more appropriate for a servant. If this had been done I think the whole story would feel better and when it as found out Griff was the real cousin, the emotions would be more truthful. The way things happened, it was still a good enough source of conflict but it wasn't as strong as I imagined it would when they finally discovered the truth.
The characters were good enough I'd say. I've seen many readers pointing out Rosalind was too irritating by having to always be right but I didn't see her like that. I saw someone who wasn't stupid and who wanted to be aware of what was going on, for once the girl is smart and not afraid to connect the dots. Griff yes, he annoyed me at times with his behavior, specially how arrogant he seemed, although he is rich and knows his place in the world, I'd still expect him to act more humbly while trying to impersonate a servant, I didn't thin his efforts were that great. Of course, it was a step to build up the plot, but still, he wasn't very convincing. I got his wishes, how he just wanted to prove he was more than what other children had always call him but his attitude wasn't always the best in my opinion.
The secondary characters were fine, I guess. I'm very curious about one of the other sisters I might try that book in the future.
The book wasn't as special as I thought it would be but it offered some good times while I read it. It had some issues I didn't thin were as well done as they could have, but in the end, overall, it was just good enough to enjoy.