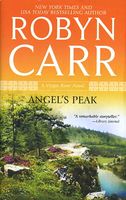 FOUR YEARS AGO, AIR FORCE SWEETHEARTS FRANCI DUNCAN AND SEAN RIORDAN REACHED AN IMPASSE. SHE WANTED MARRIAGE AND A FAMILY. HE DIDN'T. BUT A CHANCE MEETING PROVES THAT THE BITTER BREAKUP HASN'T COOLED THEIR SIZZLING CHEMISTRY.
Sean has settled down in spite of himself -- he's not the cocky young fighter pilot he was when Franci left, and he wants them to try again. After all, they have a history...but that's not all they share.
Franci's secret reason for walking away when Sean refused to commit is now three and a half: a redheaded cherub named Rosie who shares her daddy's emerald-green eyes. Sean is stunned -- and furious with Franci for the deception.
News travels fast in Virgin River, and soon the whole town is taking sides. Rebuilding their trust could take a small miracle -- and the kind of love that can move mountains.
Comment: Here's another installment in the Virgin River series by the author. I'm at that point in the series where I'm happy for knowing so many characters but at the same time I see the number of books left to read getting smaller and I already feel sorry some day there won't be more stories to read...
This is the story of Sean and Franci. Sean is one of Luke's brothers, a character we've met in previous books and someone apparently genuine and helpful. But Sean hasn't always been like this and years ago he lived for thrills and adventure and certainly didn't want a family. So he and his girlfriend broke up and after some poor attempts to see her again, things stopped for them.
Franci was tired of wanting different things so when things were over she was trying to move on but fate had another idea and she found out she was pregnant.
Now after four years, Sean and Franci met again by chance and got together. But Sean is going to have to know he was a father way sooner than he expected.
Once again, I enjoyed a story in this "world" a lot. The book before this one was my favorite of them all so it was with hope I started reading this one seeking that same taste. Of course, nothing is the same and this one didn't thrill me as much but it was still a very enjoyable and solid read.
Franci and Sean had a relationship for a long time before things started to get bad between them. They wanted different things and like it happens in real life and in so many books out there, the two people just can't seem to compromise and they figured it was best to end it all, even though we see Sean telling Franci he tried to get back to her, but his attempt wasn't very convincing at the time. Now, he has seen people he cares about happy and in love and after meeting Franci again, he realizes his happiness would always be with her. Points for him.
However, Franci has a secret and she was moving on with her life. She thought Sean would never come to terms to live up to his responsibilities or to be the person she wanted him to be, so she thought it was best not to tell him abut the baby until much later. Things dragged on but she was afraid of exposing her daughter to a person who might treat her with contempt and obligation.not real feelings. Somewhat points for her.
I think the lesson to learn here is, we don't always do the right things at the best times and we aren't guessers of other's thoughts. Time is needed to balance expectations and challenges and both Franci and Sean had a lot of time to deal with their choices. When they met again and a child's well being was on the line because of that, then it was time to think about the future in a more serious way. This is every day's life for real people, so, despite the plot's demands for story and development, the conflicts to present opposition to what was happening, despite all this, in the end, the story focused on interest and very human dilemmas and I liked how the author dealt with this.
I thin ll the issues were treated well, in particular Franci's decision not to tell Sean about their daughter. It surely isn't easy to live, so I thin her attitude wasn't as out there as that. Interesting difficulties which had to be solves but of course in the end romance rules and all ended up well.
The book also shows many characters and continues with some sub plots about recurring characters. I love this pat where we still see the lives of couples whose story has happened, because this highlights the idea that their lives go on and aren't there just when it was their spotlight. I really like this feeling, although in this book the focus is bigger on the main couple, in contrast to other previous books.
All in all another great installment, very good and always comforting. Once again, I have to say I can't wait for more.