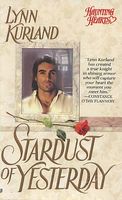 Daydreaming of her wonderful castle, she imagined that it contained a handsome, brave knight --
Suddenly, her eyes flew open. She scrambled over her chair, looking with alarm at what was quivering in front of her, only an inch away from where her toes had dangled off the edge...
It was a sword.
"I'll not miss my mark a second time." A deep voice grated from behind her.
She whirled around.
It was her knight.
It was also her ghost.
Genevieve Buchanan had inherited a castle - and a ghost to go along with it. But Kendrick de Piaget was no typical ghost. He was a handsome and infuriatingly arrogant thirteenth-century knight. At first he wanted to frighten Genevieve, though she was more charmed than scared by his ghostly tricks...But when his thoughts turned to wooing her instead, Genevieve had to face her greatest fear: falling in love...
Comment: I no longer remember when and why I got this book.It's one of those that lingers in the pile for a long time before you realize it's there. After checking it at GR I even found out it's was #11 in a series! Truthfully I wasn't in the mood to back list the other 10 stories so I jumped into this one anyway. It was my first book by the author and I really didn't have any expectation or comparing story either. It would be a discovery in all senses.
This is the story of Genevieve, she's a young woman with a business, the only steady thing in her life. After knowing about and rejecting the inheritance of a castle in England, her life crumbles and her business is ruined faster than a bullet. Her only remaining option is to accept the castle and try to find a new life there. But a ghost lives at the castle an wants her to sign if off to him, so he can die and rest in peace at last, after 700 years trapped in the castle and its land.
But Genevieve isn't like the previous owners of the castle and she meets the ghost eye to eye...and the ghost isn't ugly or easily ignored...Genevieve proves to be the perfect match to him...
Well...many things could be said about the novel but the one that comes to mind is too much going on. Many elements in this story and the tone in which it is told wasn't the most fascinating to me, so in the end this book resulted in an average reading for me.
Let's go by parts...
The plot. It was imaginative yes. I liked how they seemed so apart but close in what mattered and how interesting it was to see the relationship between the two main chaarcters develop. The reasons for Kendrick's presence were sad and his attempts to be free of his curse weren't done the best ways but I guess if it were to be true, 700 years is too much to hang onto one's patience so...
The characters. I liked them enough although after they got together, it's like the dynamics between them changed too much. It was better on one way, but I felt their closeness and feelings changed in a way that let go of that special things that united them before. It's complicated to explain. I don't thin the sex part which annoys some readers as that weird...for some people sex isn't easy I guess. I actually though the whole situation was done well enough. I think both of them had layers to unravel while reading. Kendrick wanted freedom but he found something even better when he was almost giving up. I understand his behavior and attitude but after he changed, I no longer found him as special as that. I liked Genevieve too, but once again, nothing about her stood out as much I imagined she could. In a way, they were quite balanced together but I wouldn't say they are the most romantic or perfect couple ever in romances...
The writing. Well, as a first try, I didn't think this was a bad book. I just thought there was an obvious inner humorous tone to the story I didn't like that much. I mean it's not that it is badly done but I think something a bit more serious would suit better. Although this isn't a comedy, not even close, I read this with a sense of humor always there somehow and sometimes I wanted some ore seriousness included.
Based on this novel alone I don't feel the will to try another book. But this one won a RITA and this author is quite well received by many...I wonder, was this the bad book to start or is this author just not for me, personally? I'll give her another try in the future, one day... but this book despite the acclaimed ovation didn't seduce me that much, when I thin about it as a whole, so... better luck next time, I hope.
Grade: 5/10