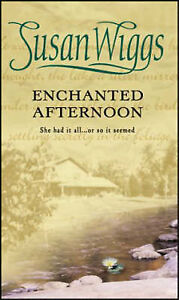 The wife of an ambitious senator, Helena Cabot is the perfect accessory for a man whose hunger for power knows no bounds. But she married for all the wrong reasons and now she is trapped with a dangerous man. Fearing for her safety, Helena ends her marriage and flees to a safe haven. But she soon understands that it's impossible to outrun the past, so she turns to Michael Rowan for help. Michael broke her young heart years before, but Helena must learn to trust him again so that together they can face the dangers that lie ahead.
Comment: In the sequence of my reading of Susan Wiggs' Calhoun Chronicles, here's another one of the installments. I've enjoyed all the books so far, but I have to say of them all, this one is probably the one I've liked the least. Not that is bad, but when comparing them all so far, this one didn't seem as magical as any of the previous ones.
This is Helena's story, the older sister of Abigail, from the previous book. We know Helena has an image he shows to everyone but deep own she is like any other young woman, she wanted happiness and love.This book starts ten years after the happenings in Halfway to Heaven and presents us an Helena with some issues to deal with and for that she asks for Professor Rowan's help, despite the way they parted ways. But now a new fear makes Helena bolder and willing to take charge.
When things didn't go well, will Professor Rowan still have the effect he once had on her?
Like I said, this wasn't my favorite book but it still had many elements to make it a good read. Only, as everything in life, we usually focus more on the negative aspects because they tend to be more obvious, overall. Again, this is just a general idea, nothing that affects the reading of this book by other readers. But for me, the things that could have been better seemed more obvious than the good things that exist, which still make this a good story with strong scenes.
My issue with this book is how the main characters, who were in love but never admitted to each other, after ten years apart now meet again when she asks for his help but it doesn't seem they deal with it in the most emotional way. One can say lack of emotion is a reaction on itself, but I was hoping to see them deal with things in a more aggressive way, I guess. I wanted them to experience further the years of separation, the issues that put them apart and I wanted them to learn to deal with their new relationship in a much more alive way too.
I think the way the story developed made them close together again but it wasn't really the emotional journey I thought would happen, basically because all their interactions seemed distant, and when physical attraction was mentioned things didn't change much.
All in all, their connection never seemed perfect, although I was glad they had an HEA.
The plot had many elements to almost camouflage the main couple's relationship. Some things, namely Helena's new found purposes and inner strength were wonderful to watch, as was the interaction with many secondary character that fill this book. But despite Helena's ties with the characters from the previous book, the main characters from that story barely showed up here. I get it, in terms of plot needs, but still..it's really weird when people who are known to be close practically never make an appearance after...
There are some secrets to uncover in this book. Some seemed a real surprise and they played the role they had to in order to move the plot along. Others were more predictable, but still interesting to see develop. There are some scenes and subjects addressed here that can be very pertinent to see and to think about.
In the end, this was a successful book, but not as engrossing as I hoped for and compared to the previous ones, not as beautiful.
Still, it was entertaining and had enough elements to make me enjoy it overall.
Grade: 7/10