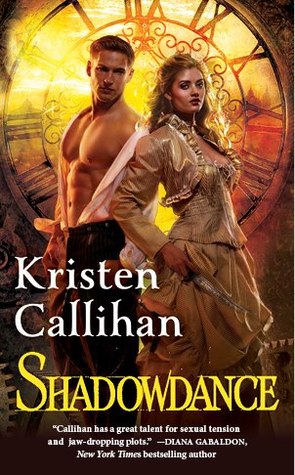 Life has been anything but kind to Mary Chase. But the Society for the Suppression of Supernaturals has given her purpose. Now she's been tasked with catching a vicious murderer dubbed the Bishop of Charing Cross. But someone is already on the case—and the last thing he relishes is a partner.
Jack Talent has been alone with his demons for many years. He never expected to have the willful Mary Chase assist him on the Bishop case. Their age-old rivalry reaches new heights—even as their desire for one another reaches a fever pitch. Though he aches to bring her close, Jack's dark secrets are a chasm between them. With dangerous enemies closing in, Jack must find the strength to face the past...or risk losing Mary forever.
Comment: I was prepared to dislike this book and curse myself for even taking the time out of potentially better books to meet up my own rules of finishing things. I really was. After the last two books which weren't as amazing as the first one, I was ready to give up the series. But promises and opinions of others about the book after this one being so good, I went with this because I already had it.
This story follows the happenings of the previous book, Winterblaze, namely the lives of Jack Talent and Mary Chase, two of the secondary characters of that book.
Both these characters have had terrible experiences in their lives, things they had to go through until they reached the status they now have. In the previous book Jack went through an awful ordeal and Mary was the one who saved him, something he couldn't' forget.
However, there's a killer in London and Mary and Jack, as Regulators are teamed up to research and solve the case. At the same time, they have to talk and deal with each other and throughout the book they not only acknowledge the feelings between them, they also join forces to finally end the villain behind every issue between them.
I liked this story which was quite the surprise for me. After the previous books that didn't deliver what I expected, I confess I was a bit put off by jumping into this one so soon. On the other hand, at least I still remembered many things.
I decided to read this one, not only because I already had it and - if I ended up not really liking it anyway - I could think it was one less story to worry about being unread, but also because I didn't have to wonder about others, my time dedicated to this world would be over without my guilt.
However, my plans were put aside because I really liked this one. I mean, it wasn't perfect but I cared about the main characters and their relationship won me over.
This story, like I said, focus on Mary and Jack's relationship while they try to solve a case together.
We get to see many details of each of their personalities and the thing they have in common is how what they went through shaped their opinions of themselves. Neither believes the ones around them, who like them should love them. In a way I liked how this detail was the element that ended being the one that made them come together. Of course by the end they accepted the lesson that they are as worthy of their feelings and love as everyone else.
This didn't come easy and they had to go past many self prejudice and wrong ideas before that, but the path towards the HEA was one I could believe and accept.
Jack is a fascinating character, very dedicated and loyal and guilt and shame consume him. I understand his need to prove himself and his feelings of not wanting to be an emotional burden to those who care about him. But I could see his growth and no matter the surprises about his origins we find out here, I still think he's one of the most humane characters in the series.
Mary as a surprise too, I had the impression she was more aloof and distant from the previous story, but she really accepted who she is here and that what she went through helped her be the person best adjusted to love Jack and to be the one equal to him. And vice versa. Their relationship was quite balanced and I also liked seeing the little details about them and who/what they are.
The villain is defeated in the end. I admit I don't really pay much attention to this side of books when they have a strong romance going on. But of course it helped move the plot along so...
I was really more focused on Mary and Jack's relationship, the sexual tension between them and the way they slowly couldn't avoid their feelings anymore. I think the pace of the story was good.
However, I can't put aside the slightly boring passages where I really wanted to see what would happen. The little scenes with clues about other beings/characters are captivating but annoying as we know we have to read more to find out.
The world seemed easier to read in this story. I think the one before really disappointed in that level, at least more than here, where I think it was balanced.
Also, the cover. It's interesting but the couple isn't what I envision both Mary and Jack to be. It doesn't have anything to do with the story, I know, but it annoys me.
In the end I think this book won me over, I mean it's not perfect no, but it restored my faith in the world, which seems to get more and more detailed with each installment, but I had the feeling this one was more well thought and executed. It does give me hope to read the next one someday.
Grade: 7/10