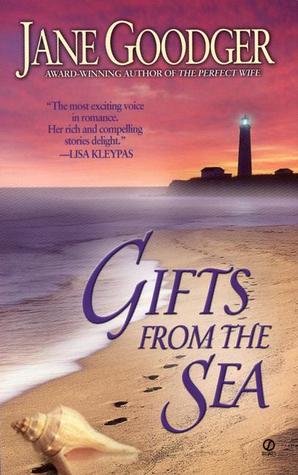 For months, Rachel Best has been watching the ocean from the beaches of Cape Cod for any sign of her missing husband, whose disappearance has left her to raise their daughter alone. Although a funeral service was held, Rachel refuses to believe her husband is truly gone. Her hopes are dashed when she helps to bring a single whaling boat ashore, only to discover not her missing husband, but a brute of a man who is his complete opposite.
Captain Jared Mitchell of the Huntress was in great spirits—celebrating a successful voyage—when he was separated from his ship. But finding himself under Rachel's care, and as weak as a kitten, is too much for the hardened sailor to bear—and a painful reminder of a personal tragedy he cannot forget.
Brought together by fate, Rachel and Jared sense a growing affection—and a love that can heal them from guilt and fear if they'll only take the risk.
Comment: This is another of the books I've had to read in the pile. I've read
another book by the author
a long time ago and I liked it and I got curious about this one because it would feature a character that had a small part in that other one. I wanted to see what would happen and if I'd know how the protagonists of the other book were by now, considering this is a sort of sequel, despite having been written before.
This is the story of Jared Mitchell, a man recused in the shores of Truro by Rachel Best, who's been a widow but still hopes her husband isn't really dead because she never saw his body.
Jared is running from some personal demons but the time sent healing in Rachel's house proves him he still has the will and reasons to live.
Rachel has never had a loving relationship with her husband, but she respected and cared for him and loved him at some point so she feels she needs to keep the faith in his return. But Jared comes along and in the difference in her feelings for him with those she had for her husband, she realizes it's never to late to let go of the past and grab happiness.
Honestly, I was surprised by how bored I was in some parts and how I wanted to shake the characters and make them stop being silly and just communicate, even if it would mean nothing would happen between them. I still remember how interesting the other book I've read was and how different the two of them are in terms of execution, despite being from the same author.
This book was written before, and published in 2001, while the other book I've read, If I Wait for You was published ten years later. However, this younger book is a prequel to Gifts from the Sea. I think it's a bit obvious how much the author evolved in ten years because I truly remember being captivated by the writing and the atmosphere and that didn't happen here. I know each book is different, but the writing style improved a lot.
I think the writing is a key element in this story, I felt that some situations weren't as captivating or well described because the way things happen just didn't captivate me much. I confess I spent some time just wishing things were different and I struggled to appreciate Jared and Rachel's story. In a way I was disappointed because after having a good experience with the other book, featuring characters related to Jared and getting the interest to read his story...well, I didn't realize the time between books would be one of the reasons my opinions about the two of them would differ.
The romance between Rachel and Jared never convinced me. I felt for them, both their personal stories have interesting and emotional connotations I think were well explored, but their relationship seemed too handy, too fake to be as amazing as it should. They spent a long time disagreeing about how to act and feel about certain issues and that antagonist never sold me their true feelings were love and desire. I mean, yes they have a HEA but it seemed just something they had to do.
The plot was simple, at some point it becomes rather obvious what happened and why, but I missed the importance of what was happening, I don't think this worked as a suspense - if that was the goal of some plot issues - and I never felt I should care about it. I was thinking about how many pages were left, probably.
The end obviously has a HEA, which is good, but some situations happen which I feel weren't as carefully dealt with as they should which only confirmed me their fast-solution need.
All in all, I wasn't impressed, I thought it would be much better. I still like some details, parts of the story were actually special but overall my opinion isn't as positive as I'd hoped for. Probably the newest works by the author are better...I'll have to try another one to confirm my theory.