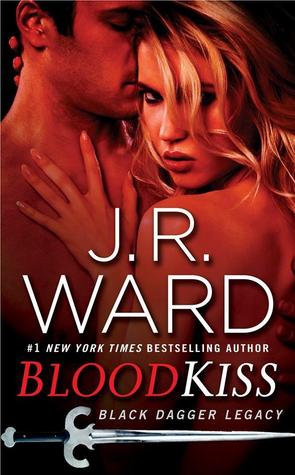 Paradise, blooded daughter of the king's First Advisor, is ready to break free from the restrictive life of an aristocratic female. Her strategy? Join the Black Dagger Brotherhood's training center program and learn to fight for herself, think for herself…be herself. It's a good plan, until everything goes wrong. The schooling is unfathomably difficult, the other recruits feel more like enemies than allies, and it's very clear that the Brother in charge, Butch O'Neal, a.k.a. the Dhestroyer, is having serious problems in his own life.
And that's before she falls in love with a fellow classmate. Craeg, a common civilian, is nothing her father would ever want for her, but everything she could ask for in a male. As an act of violence threatens to tear apart the entire program, and the erotic pull between them grows irresistible, Paradise is tested in ways she never anticipated—and left wondering whether she's strong enough to claim her own power…on the field, and off.
Comment: When I first realized this first book in a BDB spin off series would happen and be published, like so many other Ward fans, I was thrilled we could go back to romance with one of her books after the change in paths she has taken with the BDB books (which I love). I still love them and don't mind the way things are going in the original series but I also confess I love romance and the romantic side of her first books. I was very happy this new Legacy spin off was happening.
In this book we follow the new life of Paradise, a young woman from an important family, while she tries to enter the Training Program the BDB is starting to educate new possible fighters against the lesser. Paradise has the smaller goal of just being able to do something for herself but the tests are very demanding. Still, she and other five elements manage to do it. She feels very attracted to Craeg, a commoner also in the program and she knows, socially he isn't who she is supposed to fall for, but their relationship isn't all about looks.
At the same time, we follow Butch and Marissa while they try to discover what happened to a woman who went to Safe Place but eventually died.
Two things most readers seem to like bout this book: the romance focus and the small number of POVs. Honestly I don't mind the multiple POVs in the original BDB but I get why it can be distracting. This is a good thing for the Legacy spin off though, it's more focused on specific things and out attention isn't divided into several ideas going on.
I also think that, despite this being told in a way where anyone can pick it and follow the general story, it's very complicated to suitably do it without having read the BDB books first. I think this is clearly intended for those who have prior knowledge of the main characters (both protagonists were introduced in the last BDB book) because many situations have a background a new reader wouldn't know or get.
The book has two main storylines, Paradise and Craeg, Butch and Marissa and the only POVs come from them.
Paradise and Craeg are in the Training Program and one of the instructors with more air time is precisely Butch (my favorite Brother btw). Paradise and Craeg have a romance happening but we get to meet their fellow trainees and their personalities a bit. I'm curious to see if more Legacy books come out about them too. In fact, part of the appeal of these books is the camaraderie between everyone, how they start up being aloof, on their own but slowly get to see the potential in others. My biggest pet peeve about the way the characters are described is how vampires in general, especially younger adult ones seem to feel superior t everyone and have so many wrong choices like doing drugs or being irresponsible. I liked that both Craeg and Paradise weren't like that and even their new colleagues have motives to want to be able to fight.
The romance between Craeg and Paradise is sweet and hot, but nothing too exaggerated, despite the quickness of their bond. I liked the path their relationship took and the HEA at the end.
Butch and Marissa are facing a slight lack of communication in their relationship but gladly, all ends well. Things aren't exactly easy but they talk and their bond gets stronger. I think the author stresses too much the fact life goes on after the HEA and not in a positive way. All her established couples, whose paths to HEAs we emotionally suffered with them now are supposed to be happy but realistically speaking they still need to work on it and that's fine, but it's something happening all the time and a little less time focusing on this and a bit more time developing new couple's relationships would be much better in my opinion.
In this story Butch and Marissa join forces to discover the story of the woman who died after finding the Safe Place while still dealing with personal issues, Butch about his take on women in general and Marissa about the comparison between her life before Butch and after and how to deal with her brother who she loves despite their falling out.
I admit the author inserts many worthy themes to the stories, but some things that have air time maybe are a bit too much while things we really want happen a bit too fast. I understand her reasoning to write this way but in the end of all this, she is the author and I think her priorities aren't always the ones she should focus on. My opinion.
nevertheless, I liked this book, I graded it high because I truly liked it and because I understand the way this is supposed to work and the family/mates/friends bonds are amazing to see developed in her books. But it's not perfect. This is a grade 9, but more a 8.5 or 8.6 to be honest.
Still, I will keep on reding because despite everything, what makes this special for me is still happening so...