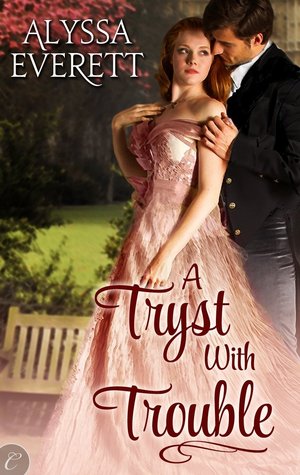 Lady Barbara Jeffords is certain her little sister didn't murder the footman, no matter how it looks…and no matter what the Marquess of Beningbrough—Ben—might say. She can scarcely help it if his cousin is the only other suspect. In fact, she wants nothing to do with ruggedly handsome Ben; he reminds her of all the insensitive clods who passed her over.
For years Ben has been dogged by painful gossip about his father's rumored homosexuality. His gruff shell hides a passionate nature, and he's also fiercely loyal—which is why he'll never let the clever and beguiling Lady Barbara pin a murder on his cousin.
Sparks fly as the two compete to defend their loved ones. But as strange new clues emerge that neither can decipher alone, they have no choice but to compare notes and sleuth in tandem. A tenuous bond develops that soon faces its toughest challenge when Ben himself becomes a suspect…
Comment: After reading some positive comments about the plots of this author, I've decided to add one to my reading list and this happened back in January 2016. Now, almost three years after, I finally picked it to see if it would be another author to follow.
In this story we meet Barbara Jeffords, a striking lady who wants to help her younger sister Helen stay way from the accusations of murder after a footman is discovered dead in their house. There is also Teddy, her sister's fiancé, who swears on Helen's honor she has nothing to do with it.
Also in the house is the marquess of Benningbrough known as "Ben", Teddy's cousin, and he thinks Teddy shouldn't marry into this family. He particularly clashes with Barbara because she is opinionated and isn't scared of arguing with him.
Both Barbara and Ben have some heavy feelings regarding who they are to world but joining forces to discover what really happened with the footman will force them to spend some time together and they realize there is a lot in common between them.
I didn't have many expectations about this story so I can say I was positively surprised by several details. I was not, however, with what I see as a lack of balance between the character's attitudes and behavior and the tone of the story which was meant to be more serious than comic or "light" as we can expect from certain authors. Since this was a new author for me, I could sort of see past that for the most time but it is a detail I wasn't able to "ignore".
The main segment of the plot revolves around the mystery of the dead footman and who might be the culprit. As the story develops we discover more and more about the protagonists and their relationship develops. Several more things happen as well which are part of the investigation but mostly, the confusion comes from some external issues - mostly related to the family members of those not in question - and also because of the protagonist's self doubt. At one point I was also a little annoyed the author has decided to make Ben dismiss Barbara because he thought he "wouldn't be good enough for her" or something alike. This tactic is often used to create antagonism where none was required and the way it happened here wasn't very smooth in my opinion.
Of course that in the end every secret is uncovered and the HEA is deserved. The main villain isn't that difficult to know, since the clues are rather obvious.
The romance is interesting because it starts with a sort of enemies to lovers trope with some opposites attract in the middle, and these are two of my favorite tropes in romance novels. Generally speaking, this was well achieved and I was glad about the way Barbara and Ben discussed but slowly started to trust things to the other, almost unaware of that but gradually with more importance. This led to some of my favorite scenes in the story but at the same time there was a certain issue...
This is a story about a murder and proving someone is innocent. The tone is expected to be serious because nothing about the author's work nor other clues would point out to comedy. However, here and there, the characters would act a certain way which I found to be a little too silly (and not in a funny way). This was mostly about the two of them and their reactions to things other other said or did. Having doubts is always complicated but didn't we have much proof they were clever, rational people? Some things didn't add up, were sort of silly.
The secondary characters were well depicted but for instance, Helen, such a key point in the whole plot was certainly not someone I'd care about and this almost made me feel the reasons Barbara had to help her weren't that valid. But, alas, Barbara is a good enough heroine. Ben's father was also very interesting and the explanations he provided for his situation ended up being too superficial. After so much supposed angst, the serious conversations I expected weren't that elucidative as I hoped.
All in all, a good story, several issues I'd change or didn't think were amazing... I'll try another one by this author to compare, but this just barely went above average to me.
Grade: 7/10