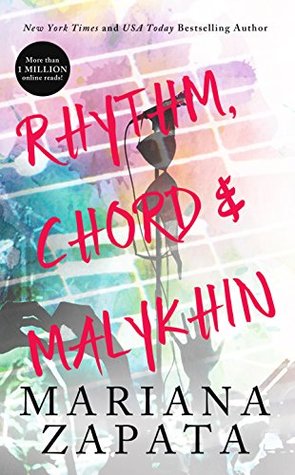 Twenty-six-year-old Gaby Barreto might be a lot of things (loyal, sarcastic, one of the guys and a pain in the butt depending on which family member you ask), but dumb isn't one of them. When her twin brother invites her to go on tour as his band's merch girl, she isn't exactly screaming at the top of her lungs with joy.
With no job opportunities pounding on her door, an ex-boyfriend she would still like to castrate, and no end in sight to moving out of her parents' house in Dallas… it would be dumb to say no to the chance of a lifetime. Two bands, three continents, one tour. Spending the next ninety-plus days with three beloved idiots and eight complete strangers shouldn't be a big deal, right?
If only the singer of the headlining band didn't have tattoos... a great personality… a fantastic body… and if he wasn't so funny….
Let's be real: Gaby never had a chance against Sacha Malykhin.
Comment: Last year I've read a book by Mariana Zapata and it was quite appealing to me so I decided to try her other stories as well and this month I picked this one. Musicians as main characters aren't always my preference but once in a while it can be great and i certainly hoped for that with this one.
In this book we have the story of Gabby Barreto, a young woman whose life seems to be ruining around her, especially after a break-up with a guy she had been with for a long time. To try to let go of her problems and because she is out of a job, she accepts to help with the tour of her bothers' band. For three months, they will be traveling in a shared space with another band her brothers' will open for. Gabby thinks it will be just like the other times she did it but this time the other band's singer is Sacha Malykhin and he becomes one of her best friends pretty quickly. But is it only friendship between them?
As expected, after having read one book and having also read other comments and reviews, I knew this would be a slow burn romance and it ended up being quite enjoyable.
In comparing with the other book by the author I've read, the balance between slow burn and acknowledgement of the protagonist's relationship felt a little better in this one. Yes, it takes many pages for them to develop their feelings properly, to the point of the reader could think "is it time already they admit it?" but when it happens, we still have some pages to bask in that and in the little scenes about their HEA. I just felt the other book I've read it took a long time for feelings to be acknowledged and there wasn't enough page time with them after.
However, I must say I hoped for fireworks when they finally said what they were feeling and I think the scene could have been even more emotional. Well, maybe a little bit more angsty so that we could say "finally".
The plot isn't complicated and it revolves a lot about the bands' tours. What makes the story fulfilled and rich is the constant details provided about the characters', their thoughts and difficulties... and this is quite admirable since the story is told in first person by Gabby.
Usually I don't like 1st person that much in romance - so limitative - but the author has done it well here. Of course, this means we can only guess so much of what they are actually thinking but the author has talent to let us read between the lines without making like the narrator (Gabby) isn't that clever she describes one situation which is obvious to us but not to her.
There are some situations I think weren't as interesting but I can understand why they were included like the cliché need to add doubt and jealous through misunderstandings or misused words which could have been easily explained with communication. But I can also accept this a working tool to leave the protagonists having anxiety because in real life we don't always just talk, we probably stay alone thinking until something happens and finally things are explained. Only that, in novels, to read about this can be a little annoying.
All in all, this is worth it for the relationships between some characters, the use of contemporary themes among the crazy world of musicians (I'm thinking about Gabby's body issues) and several other details which can be interpreted as being important or not as much by us but everything together makes up for a fluid and easy read. It felt easy to just keep reading.
I'll definitely keep reading her books.
Grade: 8/10