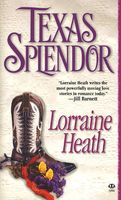 Five years in prison for a crime he didn't commit--that's how long Austin Leigh has waited to clear his name, and to be reunited with his beloved Becky. But when he is finally released, Becky is married to another. Now, Austin is determined to find the killer who destroyed his life and ruined his one chance for love. He is searching for justice--and for revenge. But what he discovers along the way is something quite different. Her name is Loree Grant, and she's survived tragedy of her own. She is the kind of friend that Austin has never had, a true companion on the long road to forgiveness and redemption. And as Austin slowly bares his soul to this strong and beautiful woman, he begins to open his heart ... to love.
Comment: I liked this story but not as much as the previous two in thr trilogy. I understand why many readers share this opinion, it's obvious there's not the same sense of happiness in this book as there is in the others. I mean, the story ends up well, with a HEA, but there's just not the same.
I liked the couple alright, but their relationship wasn't exactly what i thought it might be...it's ok, I guess, but it didn't happen the way I imagined and that clouds up a bit my idea of it. But I'll miss the characters for sure
.
* * *
Rogue hunter Drina Argenis (from the Spanish side of the Argeneau family) has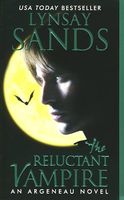 been many things in her years as an immortal, but bodyguard/ babysitter to a teenage vampire is something new. There's an incentive, however: the other vampsitter, Harper Stoyan, may be Drina's life mate.
Trouble is, having just lost a life mate, Harper is resigned to being alone. He's completely unprepared when sexy and unpredictable Drina bursts into his life to reignite his passions. Can Drina, with a little matchmaking help from their teen charge, tempt this reluctant vampire to take a chance?
Or will a dangerous, unseen renegade kill Drina and Harper's one chance at happiness?
Comment: Another installment in the series, I think there are better books than this one. The romance isn't the best one altough it was fun to watch and it has many sexy scenes. I liked how things worked out well for them in the end. The best thing is to see some characters and what is happening to them..even more interesting to put the actions of this book in the overall idea of the series. There's a lot happening for sure and we get to see small doses each time. Now I can't wait for the short-story coming in an anthology soon.